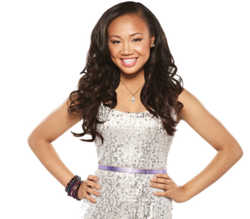 Los Angeles, CA (PRWEB) September 22, 2012
Teen sensation Cymphonique Miller and Jacob Latimore team up on her new hit single Nobody Like You. The two are set to shoot a music video on September 27th & 28th at a secret location where they are throwing a contest for their biggest fans and dancers to win a special invite and be a part of the music video.
Nobody Like You is a ballad produced by Grammy Award winner music production team 1500. Cymphonique stated in an interview, "I have one of the best writing teams in the business, and when Jacob and I got into the studio, you could feel the magic in the music. It's great working with another talented young artist." Rance, a producer from 1500 added, "I was surprised to learn that Cymphonique is only 16. She is something special, her vocal skills and work ethics are amazingly impressive. I've worked with so many platinum artists and she is definitely on that superstardom level right now."
Cymphonique is slated to drop an album early 2013. The teen phenome has been compared to the likes of Beyonce, Rihanna and Mariah Carey. Not only is the 16 year old a powerful vocalist, she has a hit TV show called How To Rock and she has been ranked as one of the most highly searched teens on the internet today. Her hit single Nobody Like You is blowing up at radio across the country and her unique fashion style is attracting teens globally. Cymphonique and Jacob Latimore are set to tour nationwide late November.
For more info contact: Gwen Priestley gprdiva (at) aol (dot) com