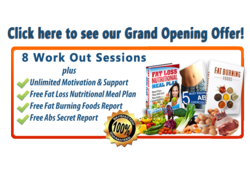 Women who are in the Land O' Lakes, Wesley Chapel or Pasco are of Florida are welcomed to contact this Lutz Fitness Boot Camp to learn more about the program, costs, specials, freebies, and the certified trainers.
Lutz, FL (PRWEB) September 27, 2012
Samantha Taylor has been a Certified Personal Trainer for over 16 years. She is a recovering food and sugar addict. Taylor recently opened Pure Body Boot Camp , a different approach to losing weight and workout out. The Fitness Boot Camp in Lutz guarantees clients the maximum results under the supervision of the most qualified fitness instructors.
Boot Camp styled exercises and gym facilities have significantly grown in the United States within the last two years. Boot Camps are popular because they often afford attendees a heavy workout in a short amount of time. "The problem with many Boot Camps is they focus solely on the exercise portion," said Samantha Taylor, CPT. "This Boot Camp for Women in Lutz is different because we put a great emphasis on nutrition with seminars for members including: How to cook healthy; How do deal with temptation; Overcoming food addictions; How to have a healthy self-image, Goal setting; and much more!"
Women who are in the Land O' Lakes, Wesley Chapel or Pasco are of Florida are welcomed to contact this Lutz Fitness Boot Camp to learn more about the program, costs, specials, freebies, and the certified trainers. "If someone visits the website, they will get a free Three Day Menu with a shopping list," continued Taylor. "There are many Boot Camps in Florida. Mine is different because we make a difference with the whole person: body, mind and spirit. Transforming a body requires more than just working out. That is what we do at Lutz Fitness Boot Camp. We transform people inside and out."
Samantha Taylor, CPT is the owner of Pure Body Boot Camp. Ms. Taylor formerly was the #1 personal trainer at Lifestyles Family Fitness for most of the year 2001, 2002 and 2003! She has been a Certified Personal Trainer for over 16 years. More information can be obtained by clicking here: http://purebodybootcamp.com/about.php
Contact:
Samantha Taylor
813-952-8525