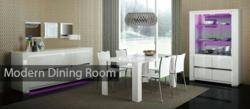 At Modern Style Furniture, we work hard to continually expand our selection and the choice of brands...
(PRWEB) September 21, 2012
Purchasing contemporary, designer furniture is an instant way for consumers to update the look of their homes. High-end furniture offers customers long-lasting, durable designs that will stand the test of time. Furnishing an entire house however can leave consumers with a light wallet. Modern Style Furniture intends to make the stylish look of high quality, modern furniture affordable by working directly with furniture manufacturers. In doing so Modern Style Furniture can offer discounted prices to the consumer compared to other high-end furniture retailers.
High-end brands carried by Modern Style Furniture include large names such as Tosh Furniture and Zuo Modern, and new products are continuously being added to the already sizable collection. Owner Oleg Anashkin is proud to offer customers the opportunity to buy upscale furniture at affordable prices stating that, "We work hard to continually expand our selection and the choice of brands." In addition to the everyday low pricing on furniture, Modern Style Furniture is currently celebrating its launch by offering customers a website-wide sale on all furniture in stock. Furthermore, all furniture purchased for a limited time qualifies for free shipping as part of the promotion.
In addition to offering some of the top names in modern furniture, Modern Style Furniture also boasts a wide selection of available products. This ranges from bedroom sets, to sectional sofas to outdoor furniture and everything in between. Consumers will be surprised by the many ways in which modern furniture can be seamlessly fit into a home while still remaining practical. A good example of this can be found by browsing the kids' section of modernstylefurniture.co, which features a contemporary and stylish take on children's furniture.
Further to individual purchases, Modern Style Furniture offers options for companies, resellers or other organizations looking to place bulk orders on furniture. For these, a Modern Style Furniture representative can provide those interested with a direct quote, specific for the order.
Modern Style Furniture's website features the ability for customers to create a product wish list that can be saved and returned to at a later time, offering an easy at-home shopping experience. Customers who are looking for specific products have the opportunity to contact Modern Style Furniture directly; Modern Style Furniture can work with popular furniture manufacturers to make a requested product available for purchase. Additionally, customers can send feedback by submitting the Modern Style Furniture online poll to help tailor customer service to the customer's needs.
ABOUT MODERN STYLE FURNITURE
Owner Oleg Anashkin drives his company to offer customers the best selection in modern furniture at factory-direct prices. Through relationships with some of the biggest names in contemporary furniture, and large purchase volumes, Modern Style Furniture is able to offer its customers unmatched deals. For more information and to place an order, visit Modern Style Furniture online at http://modernstylefurniture.co.