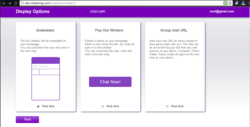 Houston, TX (PRWEB) September 22, 2012
Chatwing is a chat widget by the Chatwing Development Team that is yet to bring your chatting experience to the fullest as it brings free interactive live chat experience to the web. It has plenty of interesting features that would surely enhance and boost everyone's social life.
Being computer- and user-friendly, the chat software can be accessed through any browser and has various customization tools that allow it to be modified in numerous ways preferred by the user. Installation into one's computer is very easy and takes only a few seconds.
Chatwing offers free live chat elements that are very useful to websites and product blogs. Its chatbox improves interaction between product bloggers and their visitors, which can be up to 1000 chatters, by allowing real-time posting of questions rather than waiting for blog comments. Further, Chatwing's shoutbox has already been used for online marketing, soft launching assistance, target market research and plain chat.
A newly-launched feature enables users to personalize their own domain chatbox, which can be easily shared to and recognized by friends. Chatting in groups has also been improved through personalization of group chat links, each can be accessed through any gadget's browser. It is also possible to bookmark the group chatbox url as an icon in their mobile device, allowing social chat with just a click in your phone's application.
Several granular features allow admins to keep control of conversations through live chat features, such as assigning message moderators, one-click deleting of message and banning of users.
About Chatwing.com
Chatwing.com specializes in the new field of website chat. Over years, the Chatwing team has introduced live chat box for hundreds and thousands of blogs. The Chatwing application bridges people from many parts of the world, creating global synergy through the Internet. The shout box can be installed in just seconds, and it can be used for varying purposes such as leisure and Internet marketing. It also allows a user to customize the size, color, and name of the widget. Chatwing is 100% free for everyone.