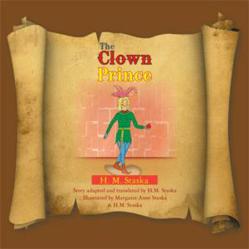 Australia (PRWEB) September 23, 2012
Clowns are considered to be comic characters that perform for the benefits of others. In the late middle ages, clowns emerged as professional comic– actors that imitate the antics of Court Jesters who humored kings. But what if clowns become object of disguise for a greater purpose?
The Clown Prince written by H.M. Staska is a magical, medieval-inspired story that tells about Karl, a young prince who is soon to become a king. But before he becomes a king, his father tells him to find a wife as his queen who will be by his side. He needs to go to other kingdoms and search everywhere in order to find his wife. Thus, Karl prepares to begin his adventures. The next morning, as Karl gets ready for his journey, an old horse with a bent old back speaks to him. The old horse told Karl that if he wants to find his true love, the horse will help him but he must learn to trust him. He also must wear the clothes of a poor man instead of a prince.
Karl thought that it was strange for a horse to speak but he thinks that it will bring him luck so he choose the old horse for his journey. They travelled a very long way, for many weeks, days and nights through mountains, forests and fields. The old horse takes Karl to a kingdom where there were three beautiful princesses who have been cursed by terrible fearsome dragons that demanded the princesses to be given to them and serve them for the rest of their lives. If the princesses weren't given to the dragons, they threaten to destroy the entire kingdom. Karl has to save the princesses and prove himself to the king and make the kingdom a happy place once more.
What will Karl have to do to save the princesses? Will he be able to save them all including the whole kingdom? Will he emerge victorious against the terrible dragons? How will he do it? And lastly, will he be able to find his true love and successfully return to his own kingdom?
The Clown Prince is a colorful, illustrated, and entertaining children's story full of magic and dangerous adventures that children will sure to love. The medieval characters as well as the mystical creatures presented in this exciting tale about the good and heroic deeds of Karl will certainly fire readers' interest and imagination.
This book will be featured at the New York Library Association Book Exhibit in Saratoga Springs, N.Y. on November 7-10, 2012.
For more information, log on to http://www.Xlibris.com.au.
About the Author
H.M. Staska was born in Adelaide two years after her parents & brothers had arrived as migrants from Czechoslovakia. She was the first Australian in their family. She remembers that as a child, her father tucked her into bed at night and tells her many wonderful stories which she has always loved but when she became a mother, she couldn't find these stories in English to tell her children and they couldn't speak Czech. As a young mum, she also didn't have the time to translate and publish stories. Now finally as a grandmother, she has the motivation as well as the time to translate and adapt these stories into English.
This book, her personal favorite, is dedicated to her father, Jan Staska, for his timeless patience relating this one especially, as well as many others over and over again.
Hopefully this story will give many other children as much listening and reading pleasure, stimulating their imaginations, as it had given her when she was a child.
The Clown Prince* by H.M. Staska
Publication Date: September 7, 2012
Picture Book; $34.99; 34 pages; 978-1-4771-4160-1
Picture Book Hardcover; $54.99; 34 pages; 978-1-4771-4161-8
Ebook;$3.99
Members of the media who wish to review this book may request a complimentary paperback copy by contacting the publisher at 1-800-618-969. To purchase copies of the book for resale, please fax Xlibris at (02) 8282-5055 or call 1-800-618-969.
Xlibris books can be purchased at Xlibris bookstore. For more information, contact Xlibris at 1-800-618-969 or on the web at http://www.Xlibris.com.au.