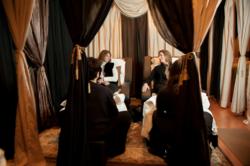 Memories are Made Here!
Commack, Long Island, New york (PRWEB) September 27, 2012
The Foot Massage Sanctuary located inside the Hands On HealthCare Massage Therapy and Wellness Day Spa where the catchy tagline "Let Us Knock Your Socks Off" is often used, has become a favorite destination of Long Islanders. However, guests must usually depend only on pictures and descriptions from the website and online reviews to determine if this is the right spa destination for them. Hands On understands the importance of this decision and therefore decided to make a video of the Foot Sanctuary. Jimmy Newson of JLN Media shot the video on location in Commack, Long Island NY.
To view the Foot Sanctuary Video, Click Here.
"This is a wonderful opportunity for potential guests to have an inside peek of an exceptionally relaxing experience," states Marla Kaplan-Pelle, Owner of Hands On. The video spotlights the low warm lighting, the comfy cozy relaxation chairs designed to melt away stress and of course, an actual foot scrub and foot massage experience. The scrubs are handmade with good wholesome, natural ingredients. The massage includes guests feet and lower legs.The Foot Sanctuary visually stimulates the senses in creating a calming area that ensures guest leave feeling better than when they first arrived. It lends itself to soft conversation. "Friends or loved ones often share this nurturing experience", states Kaplan-Pelle, "Memories are made here! This is a unique spa experience that also takes the stress out of the wallet. It is often priced less than other services in order to tempt new guests to give the spa a try."
The video captures a wonderful experience where a real couple, Glenn Schaffer and Jessi Palermo, share quality time together in the Foot Sanctuary. Kaplan-Pelle explains that, "Spending quality time with a friend or loved one, relaxing in the calm atmosphere and unwinding is certainly time that is hard to find. Time is a premium, people are working hard and when it comes to pampering, they only want the best. The Foot Sanctuary and Foot Massage is very popular and we are convinced that the video will make people more comfortable and therefore, more likely to book a session. We look forward to serving even more couples, mom and daughters, BFFs and of couse individuals as well!" The Spa offers a choice of Reflexology Pressure Point type massage and Swedish Relaxation Foot Massage.
Hands On HealthCare Massage Therapy and Wellness Day Spa has been serving the Commack Community since 2000. The company is a recognized leader in Advanced Medical Massage in Suffolk County, Long Island. specializing in pain, injury and disease. Modalities include Pre-Natal and Post-Natal Massage, Sports Massage, Trigger Point Therapy, Myofascial Release, Manual Lymph Drainage and much more. In addition, we offer spa treatments that include facials, skincare and signature body treatments. Hands On has an extensive Couples Spa Date Menu and Spa Party packages available for both on and off-site. Mobile services include bringing the day spa to your doorstep at home, venue or corporate function. Common events include Bachelorette Parties, Showers, Birthdays, Bar and Bat Mitzvahs, Sweet 16 Corporate Events and functions. Hands On HealthCare Massage Therapy's Licensed Massage Therapists and Estheticians provide clients with the ultimate experience in attention, service and care.
Hands On HealthCare Massage Therapy and Wellness Day Spa
Marla Kaplan-Pelle, Licenced Massage Therapist, Certified Lymphatic Therapist, Director
208 Commack Road, Commack, NY 11725
631.462.4263