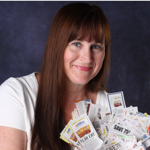 We've teamed up with our favorite companies to offer prizes to our readers all month long
(PRWEB) September 24, 2012
September is an exciting month for Beth Rose & Maggie Miller, authors at the frugal fun blog, Family Frugal Fun.
"We've teamed up with our favorite companies to offer prizes to our readers all month long," said Ms. Miller.
"It's been a big hit," says Ms. Rose, "and it's fun to see the joy of the winners."
Family Frugal Fun partnered with All You Magazine to give away 5 issues of their special Back to School Edition magazine to kick off the school year. Following the success of the 1st giveaway, they partnered with Dunkin' Donuts and gave a $25 Dunkin' Donuts gift card to 1 lucky winner. This week the frugal fun team will be giving away a $50 gift card to Ledo's Pizza Restaurant. "It is my favorite Pizza restaurant," explains Miller.
"Stay tuned for the giveaway after this week," says Ms. Miller, "because it's a secret. I never knew announcing a prize winner could be so much fun." she says. "Our readers are real family people with the desire to live a great, fun life on a budget so they deserve a treat."
FamilyFrugalFun.com is a blog about frugal living tips, creative ideas for parents and having fun for families. It was established over 2 years ago and quickly became a hit as evidenced with the blog's high Facebook Fan count. Ms. Miller is a frugal living expert and co-author of Top 100 Mobile Text Coupons on Amazon's Kindle. Ms. Miller has been seen on Good Morning Delmarva, had frugal tips in All You Magazine and had her blog voted CBS Baltimore's Most Valuable Blogger People's Choice Award in 2011