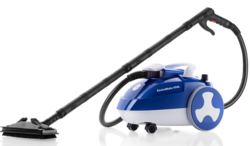 We live in a hi-tech world. And using traditional supermarket cleaning products is akin to using smoke signals instead of cell phones."
Lake Forest, Illinois (PRWEB) September 23, 2012
1-800-GO-VAPOR.com, a nationwide marketer of steam vapor systems, today announced that for a limited time customers ordering a Reliable EnviroMate VIVA E40 Steam Vapor System will receive a 7-piece bonus accessory kit—including a grey angle adapter, an extra extension handle, a large 60mm red nylon brush, a large 60mm black nylon brush, two small nylon brushes, and a small stainless steel brush.
"We live in a hi-tech world," says V. K. Dunlop of 1-800-GO-VAPOR.com. "Using traditional supermarket cleaning products is akin to using smoke signals instead of cell phones."
According to Dunlop, in the war on dirt and germs consumers are making things worse by using supermarket chemical cleaners. Not only do these products require scrubbing on hands and knees, she says, they have toxic fumes that can linger for days—even months. These fumes affect not only human health but the environment, as well.
Steam vapor systems safely and effectively clean and sanitize just about any surface using ordinary tap water. There's no elbow grease required. And no chemicals.
"Who of us doesn't know someone with cancer?" asks Dunlop. "Or a parent with a child diagnosed with autism? There is credible scientific evidence linking these health problems and others like heart disease and diabetes to some of the 82,000 chemicals available for use in the U.S., only 200 of which have been required to be tested for safety.
Dunlop says that even some cleaners marked 'green' or 'natural' contain chemicals. The problem, she says, is that current regulations do not require manufacturers to list exactly what ingredients are in household cleaners.
"Steam vapor systems are a healthy solution for consumers and their families," says Dunlop. "And for the environment in which we live."
Located in Lake Forest, Illinois, 1-800-GO-VAPOR.com is moving fast to educate consumers and businesses that finally, there's a feasible, environmentally friendly alternative to chemicals. With customers in every state in the nation and seven foreign countries, the company maintains an A+ rating with the Better Business Bureau and markets Reliable, Vapamore and Ladybug steam vapor sanitization systems worldwide. For more information, call 1-800-468-2767. 1-800-GO-VAPOR.com is a proud member of the Safer Chemicals, Healthy Families coalition, a nationwide effort to protect families from toxic chemicals. To stay safe and avoid toxic chemicals, keep abreast of the latest news with 1-800-GO-VAPOR.com's Twitter account, @1800GOVAPOR.