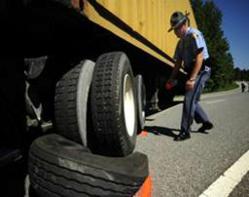 Devraj was also a recent guest of honor at ITEC 2012 Retread workshop. He recently said of the issue, "what it really all boils down to is buy a pneumatic tire that does not lose air and you will curb a penitential tire tread explosion."
Cleveland, Ohio (PRWEB) September 24, 2012
President of Lyna Manufacturing Incorporated, the company that specializes in TCC (tire casing care) and keeping commercial tires properly inflated, Noorez Devraj expressed his dismay at the recent news stories that are citing retread tires as dangerous. Regarding the issue, the Retread Tire Association put out a statement that Devraj concurs with—that retread tires are no more dangerous than a tire that has never been retreaded. Most importantly, retreads do not create the rubber many drivers see on the road. Federal and state governments have independently confirmed this over the years—the rubber on North America's roadways primarily come from road hazards, underinflation, overloading and other tire abuses on both new and retread tires. In fact the problem is primary due to the neglect of tire pressure management and tire casing care.
According to the Managing director of RTA (Retread Tire Association) Mr. Harvey Brodsky, There is no real evidence to support claims that retreads are more prone to failure. In fact, retread tires are green, environmentally friendly products that are safe to use and save the trucking industry over $3 billion annually.
Devraj was also a recent guest of honor at the ITEC 2012 Retread workshop. At the Cleveland conference, he recently said of the issue, "what it really all boils down to is buy a pneumatic tire that does not lose air and you will curb a penitential tire tread explosion."
The ITEC 2012 Retread Workshop is a conference held every other year organized by several leading organizations in the rubber, polymer and tire industry. Devraj spoke in a highly-coveted mid-afternoon spot and lectured on the topic, "Are Cooler Tires Easier to Push?"
Devraj also explains, "In my 25 years in the business, it's become very evident that adaptation in this industry is slow and sometimes difficult. When you have trailer service maintenance only being performed every 2 to 3 months there is every possibility that the tires are harshly neglected."
Having a product that can eliminate that issue what Lyna Manufacturing set out to do, nearly two decades ago; their desire to provide an affordable solution that keeps the roadways of North America and the World safer. After several rounds of product experiments that company executives believed they had discovered a solution. Knowing that credibility is everything, they pursue rigorous independent field and lab testing to confirm their products efficiency. Lyna Manufacturing was successful in creating a product that qualified as a "ground up" technology by the Scientific Research and Experimental Development of Canada (SR&ED) and they are now manufacturers of the world's best tire safety and tire casing care product.
Email sales(at)tirelyna(dot)com for more information.
About Lyna Manufacturing:
Lyna Manufacturing is a tire safety and tire casing solution company that began in 1994. Their mission is to produce and market cost-effective, environmentally-friendly tire safety and tire casing solutions that help increase the productivity of their customers while decreasing the volume of tires being prematurely discarded into landfills each year. Since then, they have been delivering superior tire casing solutions for Transport fleets, Industrial, OTR and Mining tires. To see what Lyna Manufacturing can do for you, visit http://www.tirelyna.com.
Available in multiple, easy-to-use applications, this non-flammable, eco-friendly Tire Casing Care
Tire Lyna is fast becoming one of the most sought after products for proactive transport fleets, exploring "Green" products for sustainability issues, lowering operational expenses and fuel expense. Tire Lyna provides the highest quality scientifically engineered casing solution that is made with an unconditional performance guarantee. Tire Lyna simply out performs.