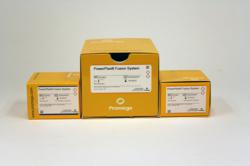 Madison, WI (PRWEB) September 24, 2012
Promega Corporation announces the launch of the PowerPlex® Fusion System, a 24-locus multiplex that incorporates common and informative loci used throughout the world. The PowerPlex Fusion System enables increased data sharing and greater discriminatory power than seen in previously available STR systems. Rapid cycling protocols cut thermal cycling time in half compared to current popular systems, enabling laboratories to focus on more value-added activities.
The system works with extracted DNA, including difficult samples with lower amounts of template and those containing inhibitors. Streamlined protocols also are provided for reference, database and paternity testing for a variety of sample types including swabs, FTA® card punches, and nonFTA punches such as S&S 903 and Bode Buccal DNA Collectors™ devices. Less than 90 minute cycling times and reduced sample preparation times significantly decrease the total time needed to process samples—saving many laboratories more than a half day per 96-well plate.
Promega worked closely with many forensic laboratories around the globe to perform rigorous alpha tests. These tests focused on product performance, including reproducibility, sensitivity and inhibitor tolerance. Based on their experience with the system, most testers expressed an interest in purchasing the PowerPlex Fusion System for use in their laboratories.
Users can consistently generate full DNA profiles from as little as 100pg of input DNA, even in the presence of excessive amounts of inhibitors. The PowerPlex Fusion System is designed to work with existing instrumentation and allele-calling software—no upgrades are required—simplifying laboratory validation efforts. The PowerPlex Fusion System is configured so that both casework and databasing sections of a laboratory purchase the same kit, simplifying validation and QC efforts.
Developmental validation efforts are already underway. In addition, Promega is seeking United States NDIS approval for the PowerPlex Fusion System.
To learn more, please visit: http://www.promega.com/fusion
Promega Corporation has provided products for DNA-based human identification for over 20 years. Promega is a leader in providing innovative solutions and technical support to the life sciences industry. The company's 2,000 products enable scientists worldwide to advance their knowledge in genomics, proteomics, cellular analysis, molecular diagnostics and human identification. Founded in 1978, the company is headquartered in Madison, WI, USA with branches in 15 countries and over 50 global distributors. For more information about Promega, visit http://www.promega.com