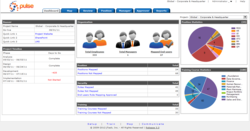 "...providing customers with real software for performing the tasks required by ERP OCM projects," Roger Watson, jTask president and principal
Palo Alto, CA (PRWEB) September 24, 2012
The new release of Pulse provides significant for enhancements for companies to manage their role mapping, training assignment, stakeholder registry and communications for SAP or other ERP software implementations or upgrades.
Version 3.3 updates include:
For ERP OCM project managers and communicators, Pulse 3.3 offers:

Communicate facilitates complete and effective ERP OCM project communications by integrating the results of the stakeholder analysis with practical data management of the communication plan and email addresses.
For instructional designers, training developers and training managers, Pulse 3.3 offers:

Ability to send Course Description via email from the Design or Development tab
Instructional designers and developers no longer have to leave the tool to conduct necessary email communication tasks.

Enabled administrators to set-up their own status percent (%) definitions for Design and Development
Tool administrators and project managers have more freedom to see design and development progress or status the way they want to see it.

Added links to course description from Dashboard pop-up windows
Instructional designers and developers get quicker, easier access to critical course information

Additional filter in User Preferences to view "My Courses" on Design and Development tab
Designers and developers get directly to their own tasks more quickly.
With the Train, Map and Communicate modules, Pulse manages three key aspects of customers' ERP upgrades or implementations: training analysis and design, role mapping – combining both security and training, and management of the stakeholder register to communications.
According to jTask President, Roger Watson, "is providing customers with real software for performing the tasks required by ERP OCM projects, in addition to the usual Microsoft documents like spreadsheets and forms. jTask redefining how OCM project teams deliver their work products."
Pulse is an alternative to managing scores of spreadsheets and constant meetings just to find out status of basic organizational change management activities. Available as a hosted solution or installed onsite Pulse is real software that uses the latest database and web technology.
As a provider of ERP OCM consulting services, jTask has been offering Pulse without charge to consulting customers who use jTask organizational change managers, instructional designers and ERP project communication professionals, for the past two years.
With the new version, interested parties can register online for a 14-day trial. Pulse is now available for purchase of as few as five to an unlimited number of users.
Pulse customers tend to use the software for as many months and as many users as needed. When their need for managing ERP project end-user training, security to role mapping, stakeholder lists and project communication ends, they typically end their subscriptions.
The Train module follows the ADDIE methodology, supported by ISPI, STC and other professional groups. It comes with many free course descriptions for jTask's most often requested SAP end-user trainings. Train supports multiple training tracks, instructional designers, subject matter experts and managers.
Map lets managers assign their employees to the specific training tracks that are associated with specific security roles and system access. When role descriptions change or users are reassigned, all their information is updated throughout the database.
Communicate gives project communicators, team leads and the project management office easy visibility into who needs to be communicated to, message strategy and timing, while maintaining a centralized database of stakeholder email addresses.
jTask, Inc. specializes in providing Organizational Change Management services to companies that are installing or upgrading ERP systems such as SAP across their operations. jTask manages, develops and implements key communications and end-user training plans that allow jTask customers to improve business performance without disrupting operations. jTask principal and president Roger Watson and Mario Cristiani have been leading teams in ERP organizational change together for over ten years, throughout the Northern California and the Pacific Northwest primarily, although some customers have called on jTask from as far away as Illinois, New York and even Canada.
jTask is an expert in project communication and performance-based training, using tools such as SAP Productivity Pak by ANCILE (ANCILE uPerform®), Adobe Flash, Adobe Dreamweaver and Articulate Studio to implement instructor-led and self-paced training. All jTask consultants have extensive experience in SAP Organizational Change Management and Human Performance Technology.