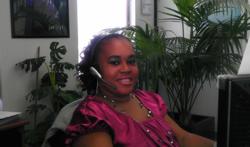 This position is mission-critical for Sound Telecom
Seattle, WA (PRWEB) September 25, 2012
Sound Telecom, a leading nationwide provider of telephone answering, call center and unified communication services, today announced the appointment of Lakesha Smith as Office Administrator.
The primary focus of this position is handling the extraordinary busy inbound call traffic for all departments, properly routing calls, taking accurate messages and relaying them on a timely basis to the appropriate team member. Administratively, Lakesha has the complex responsibility of reporting to, providing on-going support and handling extraneous projects for each department head, the CEO, CFO, COO and Director of Customer Relations at Sound Telecom.
"This position is mission-critical for Sound Telecom," says Michael LaBaw, the company's CEO. "When you're in the business of answering phones, reception skills are closely scrutinized by staff, vendors, prospects, customers and every caller; Lakesha is the 'voice' of Sound Telecom and also hospitality professional, gatekeeper and caretaker for our corporate office."
"We are thrilled to have Lakesha Smith join our corporate staff in Seattle," says Sydney Morgan Diamond, Sound Telecom's CFO. "Lakesha is an intuitive provider of world-class customer service. You can hear it in every call that she handles." Lakesha brings to Sound Telecom over 16 years of experience in call center support, customer service management, and office administration with extensive entrepreneurial experience. Her professional, friendly and courteous demeanor and genuine desire to serve others adds great value to the Sound Telecom family each day.
About Sound Telecom
Sound Telecom is a leading provider of 24 hour Telephone Answering, Call Center and Unified Communication Services, headquartered in Seattle professionally serving thousands of customers throughout the United States and Canada with USA based agents. The twenty-six year old company has offices in Seattle and Spokane, Washington and Denver, Colorado. For more information, please visit http://www.sound-tele.com
Contact Information
Michael L. LaBaw, President
Sound Telecom
800-577-1550
http://www.sound-tele.com