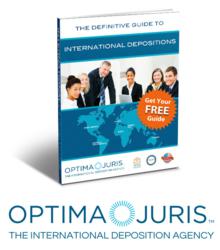 There is no other resource like this. It is a must-have item for every legal office
Irvine, CA (PRWEB) September 26, 2012
Today Optima Juris, the international deposition agency, announced the immediate release of its free, exclusive publication, The Definitive Guide to International Depositions. This one-of-a-kind manual offers step-by-step instructions and advice for legal professionals seeking to organize depositions outside of the United States.
"We know how difficult it can be to get reliable information on organizing an international deposition when and where you need it. That is why we have assembled an easy-to-follow guide that you can keep in your library and access when a need for deposing an international witness arises," announced Ian Hardy, Optima Juris President and Global Deposition Expert. "Simply apply the steps in this guide and I guarantee you'll feel like an experienced veteran."
The fifty-page booklet discloses the most relevant and important information for organizing a deposition abroad. This is the first time such information has been made widely available in printed form. Inside the guide you will find easy-to-follow guidelines for attorneys and deposition organizers, an international deposition checklist, frequently asked questions, chapters on how to administer oaths and handle deposition exhibits abroad, as well as special resource pages for every region in the world.
Available exclusively to attorneys, paralegals and legal secretaries, The Definitive Guide to International Depositions is offered 100% free of charge. By so doing, Optima Juris wishes to share its industry-leading knowledge and offering of international deposition services with friends and colleagues in the legal community. As Ian Hardy explained, "There is no other resource like this. It is a must-have item for every legal office."
To obtain your FREE copy of The Definitive Guide to International Depositions, please visit http://optimajuris.com/free
About Optima Juris
Optima Juris (http://www.optimajuris.com), the international deposition agency, is the first and only company providing U.S. deposition services – court reporters, legal videographers, interpreters, and conference facilities – exclusively outside of the United States. Founded by internationally-recognized Global Deposition Expert Ian Hardy, Optima Juris is an industry leader in organizing U.S. depositions in foreign countries throughout the world.
Headquartered in California and with offices in Europe, Asia, Africa, the Middle East and Latin America, Optima Juris provides unparalleled local resources and working knowledge to make global depositions happen.
Media Contact:
Catherine Beeny, Marketing Associate
Optima Juris
949.923.1052
http://www.optimajuris.com
###