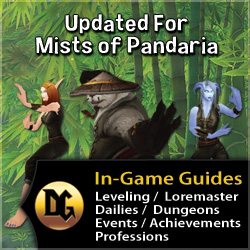 (PRWEB) September 22, 2012
With the release of Mists of Pandaria on September 25th, the level cap in World of Warcraft will be rising from level 85 to 90. Players from around the world will be clamoring not only to be the first level 90 on their server, but also the first level 90 amongst their friends and guild mates.
In order to reach the level cap quicker, many players are turning to the new and improved Dugi's Ultimate WoW Guide. This updated version of the famous Ultimate WoW Guide software covers all of Mists of Pandaria through level 90 and releases the same day as the MoP expansion.
How do they do it? The secret sauce provided by Dugi Guides that makes it so much better than other leveling guides is that their product is an actual in-game add-on created by a team of programmers for the express purpose of power-leveling your World of Warcraft character.
Rather than being a clunky guide, Dugi's Ultimate WoW Guide is installed on your computer as if it were a piece of software. It then runs while you are in-game, using a coordinates system and GPS-like sensor to show you exactly who to talk to and in what order to complete your quests in the fastest leveling path possible.
Dugi's is bringing a lot of great new features over their first version. Now, players are able to change zones at will in order to move through the levels quicker - you do not have to do the zones in order. For example, if the initial Mists of Pandaria zone is too crowded, you can move over to the level 86 zone and set up Dugi Guides to cover that zone instead and you will get that same Mists of Pandaria leveling guide without actually having to fight the crowds of the starter zone.
The strategy of skipping the first zone has been quite popular among many who have earned the Feat of Strength for first level 70, 80, and 85 on the server. Dugi's Guide allows you do employ this zone-skipping strategy while simultaneously letting you enjoy the benefits of the fastest leveling path humanly possible.
As a result, it is no surprise that players of all classes and factions are flocking to Dugi's Guide. New Monks in particular are making use of Dugi Guides so they can move from level 1 to 90 in record time. More details on Dugi's Guide are available at Strategy Guide HQ.