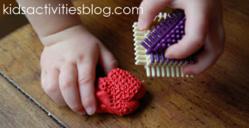 Save time and money. Upcycle at home.
Dallas, TX (PRWEB) September 24, 2012
New Blogs have been published on Kids Activities Blog about activities for one year olds. To find simple and fun activities for one year olds does not mean one has to run to the toy store. One does not have to buy the latest todder invention. Kids Activities Blog features 19 new engaging activities for one year olds, and many more suggested by our bloggers, which are 100% tot-approved, inexpensive, and keep him or her occupied for hours while developing sensory and motor skills. These activities for 1 year olds can be found at home by using everyday items. Before you recycle consider upcycling everyday items into a fun object for your toddler!
Since toddlers are by nature little explorers, turn household items into sensory activities or discovery toys. Large tin cans turn into drums, mix pipe cleaners and a sifter, make I-Spy shaking bottles, or make fingerpaint from condensed milk. The imagination and items found on Kids Activities Blog are endless and have caused an intense amount of added blogs from other Moms.
A trip to the toystore with a one year old may not be necessary if you can simply upcycle at home. Try games for one year olds with your muffin pan. Repurpose your muffin pan and get some colorful plastic balls and play a games of basket-muffin ball. For older kids pinpong balls will add to the bouncing excitement in placing the balls into the holes.
Kids Activities Blog has lots of Moms blogging about activities and games for one year olds. Begin upcycling your everyday household items for toddlers.