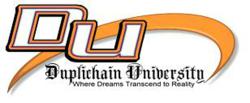 Lake Charles, LA (PRWEB) September 24, 2012
Duplichain University has recently added four concentrations in their undergraduate and graduate Criminal Justice Programs. The Criminal Justice Program offers several specialization areas and students may select one of the following areas of specialization as their concentration.
Homeland Security: This concentration is a study of operations and the agencies' responsibilities in confronting terrorism and ensuring the security of US citizens and its physical property.
Corrections: This concentration is a study of the correctional systems designed to protect the public from convicted offenders, as well as ways to rehabilitate and integrate this group back into society.
Law Enforcement: This concentration is designed to prepare candidates to protect and serve the public on the frontlines through the study of law enforcement operations, criminal law and investigation.
Juvenile Justice: This concentration is a study of the protection, rehabilitation, and incarceration of juvenile as well as the root causes of juvenile justice problems.
Duplichain graduates in Criminal Justice will be prepared for entry-level positions or apply their understanding of law enforcement, criminology, the judicial process, juvenile justice, correction, homeland security or criminal law to their current jobs.
Duplichain University is a global online learning institution offering undergraduate and graduate degrees in Education and Criminal Justice. Duplichain University offers an innovative learning approach in a supportive, nurturing and flexible academic environment. Students enrolled in Duplichain University develop, refine, strengthen, and enhance their skills in a discipline of their choosing, while maturing academically, intellectually, and personally.