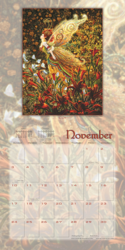 Thanks to everyone who requested this calendar.
Colorado Springs, Colorado (PRWEB) September 27, 2012
LowryGlobalMedia.com, publisher of Print and eBooks as well as iPhone and iPad Apps, has released the Myles Pinkney 2013 Wall Calendar. The 2013 Myles Pinkney calendar contains a little something for everyone; Science Fiction, Wizards, Dragons, Fairy's, and Steampunk. Each month features one of Myles exceptionally detailed paintings in his award winning calendar style.
Myles Pinkney's 2013 calendar begins the year with The Astronomer (a wise old wizard peering through his Steampunk telescope at a comet trailing across the sky) and ends the year with a very trendy Steampunk Santa Clause. All of the months in between delight with Myles stunning Science Fiction, Wizards, Fairy's, and Dragons.
"Thanks to everyone who requested this calendar," says Myles Pinkney. "It is good to know you are out there. We've produced a good one for 2013 that I believe you will be very pleased with."
Myles Pinkney was unable to create a calendar for 2012 due to his illness, resulting coma, and extended recovery, but now that he is well again he has created "The Art of Myles Pinkney: The 2013 Science Fiction & Fantasy Art Calendar". His 2013 wall calendar is in full color and displays a wide variety of his painting subjects.
In addition to the Calendar, Myles has also recently released the Wizard's Notebook Series, a series of six traditional lined paper notebooks with Myles Wizard art on the covers, and the Christmas Journal Series, a series of four combination scrapbooks / journals for preserving Holiday memories. Also, Myles will soon be appearing on millions of iPhones via the 'Myles To Go' iPhone App which contains 365 daily witticisms. To say the Myles is a deep thinker is an understatement (get his iPhone App and you will understand why). The 'Myles To Go' iPhone App is scheduled for release in mid October 2012.
Since recovering from his coma, Myles has been exceptionally busy creating art in many forms and on many platforms for everyone to enjoy.
About Lowry Global Media LLC
Lowry Global Media LLC is a publisher of iPhone and iPad Apps as well as Print and eBooks. We are very proud to feature the artwork of Myles Pinkney, which is like no other. Myles paints realistic renderings of imaginary subjects. His color palette choices and mind blowing details make his art truly unique and world class. Many of his pieces have taken years to complete. Myles Pinkney's art can be found adorning homes throughout Europe, Asia, North America, and Australia.
Lowry Global Media LLC is dedicated to pursuing the dream. Be inspired, find your dream, succeed, and all along the way be grateful.