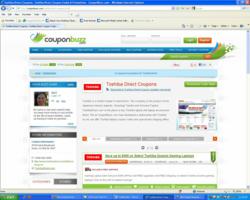 You can almost find that much money in loose change in your couch!
Houston, TX (PRWEB) September 23, 2012
Consumers across the internet are swarming to check out just what the incredibly low price of $349 bucks can get them in a laptop. A new Toshiba coupon featured today by CouponBuzz.com drops the price of a new Toshiba Satellite C850D laptop to just $349, after $110 dollars of instant savings. CouponBuzz.com, a coupon aggregate website, is dedicated to scouring the internet for the very best deals and featuring them on web pages specifically dedicated to various brands and merchants. For example, today's featured Toshiba coupon can be found on the Toshiba web page at CouponBuzz.com, right at the top of the page.
"With this Toshiba coupon, consumers can score themselves a brand new laptop for an incredible $349 just by going here and clicking on the coupon link, enthused CouponBuzz.com founder Justin Bowen. "You can almost find that much money in loose change in your couch! Okay, maybe not, but it's still an unbelievably low price for a quality laptop that can not only fulfill all of your needs, but most of your wants."
The Toshiba Satellite C850D- BT2N11 laptop is one of Toshiba's line of budget-friendly laptops that trades off slightly reduced computing power, data storage and speed for a lower cost. However, the AMD Dual-Core E1-1200 accelerated processor (1.40 GHz) is still fast enough for most users needs, and the 320GB hard drive has plenty of space for normal laptop storage needs. This Toshiba coupon also offers double the standard memory, eliminating the upgrade fee, so 4GB of DDR3 memory is included. The C850D is up to date with progression in flash drive technology, offering one 3.0 USB slot, and two of the standard 2.0 USB slots. Its 15.6 inch screen size is also very standard and totally sufficient, and a web cam and microphone are also part of the package. In addition, a 6 cell lithium ion battery offers long lasting battery life, unusual in such a cost-effective computer.
This is a limited time offer, valid only thru September 25th, 2012, so interested consumers should make their decision quickly. While the Toshiba Satellite C850D is not one of Toshiba's peak performance, full-featured 'cadillac' laptops, it is still manufactured with Toshiba's high quality components and backed by a full warranty. And for $349 dollars, it is very improbable that online shoppers can find a better deal on the market that will gain them the flexibility and portability of a laptop. Full specifications on the Toshiba Satellite C850D can be found via the link in CouponBuzz.com's Toshiba coupon section, located here http://couponbuzz.com/toshiba-direct-coupons.html.