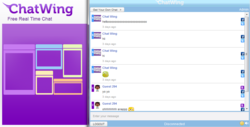 San Francisco, CA (PRWEB) September 23, 2012
San Francisco, CA - Chatwing is a free and user-friendly chat tool with Typepad-like interface built mainly for communication. This chat application has offered convenience and efficiency to active bloggers and web surfers, and is yet to be proven as an effective tool in school.
More recently, Chatwing chatbox has new feature for teachers to use in their classes. In a very simple way, teachers and students can always be easily got in touch. The teacher can send important announcements or updates to the entire class and students can instantly ask questions that are, as much as possible, class-related (e.g. homeworks, exams and schedules).
To get the personal classroom chatwing chatroom within an existing account, simply click ADD CHATBOX and GROUP CHAT URL, which is the third option on the page that follows. The color and the class username (e.g. Math class) can be customized as to the user's preference. A link will be provided and can be shared to a specific class. The class can access it quickly to enable viewing of announcements that are instantly made and received. This chat link can be accessed via any browser in any device, including phones. People can also bookmark this URL as an icon on their mobile device.
With the innovations that technology and internet has provided us with, the use of Chatwing shoutbox in class is surely one of the most effective. Students will surely be more guided as they study while teachers will be more effective in disseminating knowledge through instant updates on class activities. Hence, it is very beneficial to consider using Chatwing in all of the classes in school.
About Chatwing.com
Chatwing.com specializes in the new field of website chat. Over years, the Chatwing team has introduced live chat box for hundreds and thousands of blogs. The Chatwing application bridges people from many parts of the world, creating global synergy through the Internet. The shout box can be installed in just seconds, and it can be used for varying purposes such as leisure and Internet marketing. It also allows a user to customize the size, color, and name of the widget. Chatwing is 100% free for everyone.