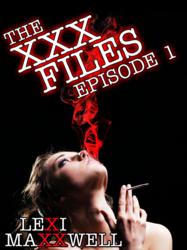 I love writing for my readers. It's one of my favorite things I do, and I see no reason why they should spend a fortune to familiarize themselves with my writing.
Las Vegas, NV (PRWEB) September 24, 2012
Lexi Maxxwell, prolific erotica author, gathered 50 previously published short stories in a "mega-bundle," and released the title for the bargain price of $9.99. Capitalizing on the runaway success of E.L. James breakthrough "mommy porn" title, "50 Shades of Grey," Maxxwell titled her bundle "50 Shades" as shorthand for erotica.
After publishing a short title each week nearly every week this year, "50 Shades" is Ms. Maxxwell's most successful work to date. It assembles much of her work from earlier in the year into a single, massive collection that makes it easy for her fans to have their favorite stories all in one book, while giving new fans an opportunity to dip their toe into her work for only .20 per story.
Maxxwell said, "I love writing for my readers. It's one of my favorite things I do, and I see no reason why they should spend a fortune to familiarize themselves with my writing."
When asked if she felt like she was pricing herself too low, Maxxwell said, "No, absolutely not. I write constantly, and I'll always have new stuff. '50 Shades' offers new readers a great way to get to know me. Once you read one Lexi Maxxwell short, you will want to read another, so I don't see an underpriced book as leaving dollars on the table, I see it as gaining a possible lifetime reader. That means everything to me."
According to Maxxwell, and many of the erotica forums, on Amazon and many other places online, there's an abundance of subpar erotica. She wanted to give readers an easy way to recommend her work to their friends.
"There's a ton of garbage out there. Just because there's a ton of cheap erotica, doesn't mean that much of the erotica is a good deal. Nothing is more valuable than your time. I want to produce erotica that's worth reading, without being hard on your wallet."
So far, Maxxwell's gamble has payed off big with reader enthusiasm. In just two short weeks, "50 Shades of Lexi Maxxwell" has earned 30 5-star reviews and 2 4-star reviews.
"I couldn't be more thrilled," Maxxwell said. "I feel very, very fortunate to have such wonderful readers; readers who enjoy my work enough to take their valuable time to leave a review. Positive reviews are one of the hardest things for authors to earn, by far. Clicking on the "50 Shades" page and seeing so many 5-star reviews tells me I'm writing the right things, and writing them in the right way."
Lexi's fanbase has been steadily growing through the year, and is poised to explode once she finally releases her first full novel later this year.
"I'm pushing for an October release," she said. "But I'm willing to nudge it to November if I need to. This isn't a short story, it's a full book, with the character arcs and solid development readers expect. It's worth my time and attention to make sure it's my best work before its release."
In the meantime, Maxxwell is considering putting together another bundle.
"I'm definitely thinking about it. Fans loved the first one, and I don't want anyone waiting too long to get what they really want."
In the meantime, fans, new readers, or the simply curious can find Lexi's serialized erotica hit, The XXX Files for free.