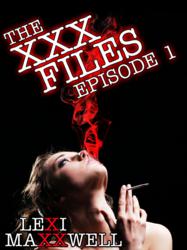 50 stories for less than ten bucks? That's a freaking steal. You're paying less than 20 cents a story. That is an awesome discount.
Las Vegas, NV (PRWEB) September 25, 2012
Lexi Maxxwell's newest title, "50 Shades of Lexi Maxxwell," has earned 32 reviews, with an average rating of 4.9 out of 5 stars in just two weeks. Even better, each of her "5-star" stories in the collection when bought in the bundle come out to just .20 each.
"I couldn't be more thrilled," Maxxwell said. "I feel very, very fortunate to have such wonderful readers; readers who enjoy my work enough to take their valuable time to leave a review. Positive reviews are one of the hardest things for authors to earn, by far. Clicking on the "50 Shades" page and seeing so many 5-star reviews tells me I'm writing the right things, and writing them in the right way."
Cheap erotica is terrific for readers on a budget, but even a low price means little to nothing if the quality of the stories aren't worthy of a reader's valuable time. Fortunately, that's the area where Lexi Maxxwell always over-delivers.
As one of Lexi's 32 reviews said:
"50 stories for less than ten bucks? That's a freaking steal. You're paying less than 20 cents a story. That is an awesome discount. However, it wouldn't be worth it if the writing was no good. Luckily I have always enjoyed Lexi Maxxwell, even enough to overlook the title of this book.
Her stories are fun, intriguing, well-written, well-paced and above all satisfying. This is a fantastic collection and if you're a lover of erotica there is certain to be several stories in here that work for you. This is the perfect way to catch up on all things Lexi that you haven't read or try her out for the first time. Awesome."
And while Lexi has only used the "50 Shades" title as shorthand for erotica, and doesn't write much in the way of BDSM, that hasn't mattered to fans a bit. As another reviewer said:
"Although there isn't a BDSM side to this "50 Shades", there is a depth of characters and storyline which will hold your attention (and BRING your arousal to attention) with steamy elicit scenes. If you loved 50 Shades of Grey, you will LOVE Lexi Maxxwell's 50 Shades cumpilation!!"
Amazon boasts page after page of free or cheap erotica, but much of it is self-published and not especially good.
"I mean no disrespect to other self-published erotica writers out there, but many writers in this genere simply don't have the experience, or the chops to deliver a compelling story that's more than a few awkward and sometimes embarrassing scenes. Much of what I've read in the free or cheap lists reads a little like my story notes – the ones I write before starting my rough draft!"
Maxxwell credits her years as a copywriter for her ability to use persuasive language that keeps her readers swiping their pages, while dipping deep into their most intimate emotions.
"When you're a copywriter, your job is to make people feel, and drive them to action. I've been doing that successfuly for years. Copywriters make great fiction writers for exactly this reason. And they say to 'write what you know.' I love reading smut, so it only made sense that I would love writing it, too!"
Lexi's fanbase has been steadily growing through the year, starting with her first title back in January, and she is poised to explode when she releases her first full novel later this year.
"I'm pushing for an October release," she said. "But I'm willing to nudge it to November if I need to. This isn't a short story, it's a full book, with the character arcs and solid development readers expect. It's worth my time and attention to make sure it's my best work before its release."
In the meantime, fans, new readers, or anyone curious about what makes Lexi such a hit with her readers can start with her serialized erotica hit, The XXX Files for free on Amazon.