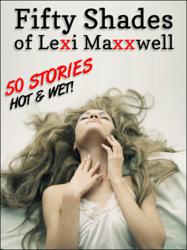 It's one of the most shocking things that's happened to me so far this year. I never saw it coming.
Las Vegas, NV (PRWEB) September 26, 2012
Lexi Maxxwell, beloved erotica author, adored by thousands of fans aroused by her words, has released a brand new collection bundling a whopping 50 "5-star" erotica stories together into a single $9.99 package, giving her readers plenty of pleasure for the barely there price of .20 cents per story.
Cheap erotica is great for readers on a budget, but it means little to nothing if the quality of storytelling isn't worth a reader's time. Fortunately, that's where Lexi Maxxwell always over-delivers.
As one of Lexi's 32 reviews said:
"50 stories for less than ten bucks? That's a freaking steal. You're paying less than 20 cents a story. That is an awesome discount. However, it wouldn't be worth it if the writing was no good. Luckily I have always enjoyed Lexi Maxxwell, even enough to overlook the title of this book.
Her stories are fun, intriguing, well-written, well-paced and above all satisfying. This is a fantastic collection and if you're a lover of erotica there is certain to be several stories in here that work for you. This is the perfect way to catch up on all things Lexi that you haven't read or try her out for the first time. Awesome."
Lexi loves her reviews, but loves the personal emails she gets from readers even more, many telling her the many ways her work has helped with their marriages, and how much that means to them.
Maxxwell said: "It's one of the most shocking things that's happened to me so far this year. I never saw it coming. I just wanted to write my wonderfully smutty books because working on them fed something inside me that my copywriting couldn't. Sure, I wanted to make my readers feel, but I wasn't trying to make a difference in anyone's marriage. Knowing I have, however, means the world to me now."
Maxxwell credits her many years of copywriting experience for gifting her with the ability to write fast and well, and right to the heart of her readers.
"It's simple, really," she says. "Copywriting taught me how to keep a reader on the page, and slip into the conversation they were already having in their head. When I decided to write as 'Lexi,' I figured I would just take what I already knew from my years as a copywriter, then blend those skills writing stories I would love to read myself. I never write anything I wouldn't happily pay for."
The formula seems to be working, with a fanbase that's been growing steadily for more than nine months.
"I am humbled and fortunate," Maxxwell said. "I'm waking each morning, thrilled with what I'm going to write – that's an every day thing now, and that's the first time in my life I can say that. I can't wait to see what happens next."
Lexi is currently working on her first full length novel. "I'm pushing for an October release," she said. "But I'm willing to push it to November if need be. This isn't a short story, it's a full book, with all of the character arcs and development readers will expect. So it's worth the time and attention to make sure it's as good as can be before its release."
In the meantime, Maxxwell is considering putting together another bundle.
"I'm definitely considering it. Fans loved the first one, and I see no reason to make them wait too long for what they want. That's another thing I've learned from copywriting. ALWAYS over-deliver!
Fans, new readers, or anyone curious about Lexi and what makes her so special can start with her serialized erotica hit, XXX Files. It's always free and can be found on Amazon.