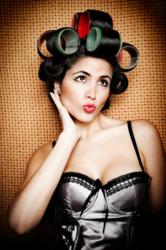 Thanks for helping me with my makeup. I have never known how to deal with my uneven skin tone and how to do my eye makeup. I feel so much better now. Emma, Northcote
Melbourne, Victoria (PRWEB) September 27, 2012
Many women are unfamiliar with the how-to's of performing a "self-makeover" because they simply do not understand the ins and outs of makeup and hairstyling. Is their skin colour more flattered by autumn or winter tones? Would their straight hair frame their face better if it were curled? What are some time-saving tips and tricks in the hair and makeup world for women on the go?. The makeup artists at Forever Flawless offer one on one hair and makeup lessons for women who want to know how to make themselves look beautiful on their own.
There is a substantial lack of high-end hair and makeup artists available to instruct women on how to properly apply makeup with one-on-one training in the privacy of their home. Forever Flawless began offering independent hair and makeup consultations to make personal beautification available to all women in Victoria. Women who have never had a complete beauty overhaul can rest assured knowing that every artist employed by Forever Flawless has at least ten years of experience creating the latest and most fashionable hair and makeup techniques.
Forever Flawless clients do not need to worry about having beauty products pushed at them by any of the artists. The company is not in the beauty business to sell products; they are there to teach women how they can feel beautiful and confident and how they can look like a star every day of the week. They will only recommend a product that truly works and is specifically suited to their client's hair or skin type.
Each hair and makeup workshop is tailored to an individual's specific needs. If a woman needs a colour test to determine just how to bring out the brilliant hues in her eyes, Forever Flawless's makeup artists are there to offer their advice. Any woman who wants to look her absolute best will be offered a personal consultation by one of Forever Flawless's makeup experts. Clients are provided with a hands-on demonstration of how to apply their makeup and style their hair.
Because there are so many different types of hairstyles and makeup from which to choose, having a "makeup coach" is incredibly beneficial. The makeup artists at Forever Flawless will go through a client's makeup collection and instruct them about which makeup to keep and which to toss. Every woman who receives a consultation and demonstration will also receive a copy of written tips and information on how to continue to look their best in the absence of their makeup artist.
About Forever Flawless: Caroline Balinska, the owner and lead hair and makeup artist at Forever Flawless, has 15 years of experience in the beauty industry. She is a trained hairdresser and has worked at some of Melbourne's top salons as a colourist, stylist, and makeup artist. She has also owned her own salon in South Melbourne. She specialises in pre-wedding services including hair extensions, spray tanning, and hair colouring and spends most of her weekends with her bridal clients.