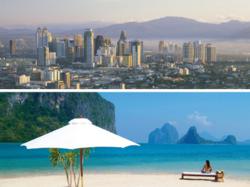 Up to 80% off hotels around the world.
Los Angeles, CA (PRWEB) September 23, 2012
Finding the best deals on hotel rooms just got easier with the launch of CheapHotels.ph, a website that features the beauty of the Philippines but also provides listings of locations around the world.
Visit CheapHotels.ph for the best hotel deals and discounts.
Available for use to visitors across the globe, CheapHotels.ph will allow users to find their desired location and get a listing of great hotels, motels and resorts.
Ratings and reviews by users and recommended listings are standard features of the site that allows people to make the best decision on their stay whether it be for business or pleasure.
Interest of tourism in the Philippines has been on the rise after millions of people saw the streets of Manila and the beauty of Philippines islands Palawan featured in the latest movie Bourne Legacy.
See the top destinations featured by CheapHotels.ph:

Boracay Hotels, New York, LA, Paris and more.
Actor Jeremy Renner described Filipinos as "welcoming and loving;" the actor obviously enjoyed his stay in Manila and Palawan (see article - Jeremy Renner raves about the Phillipines).
The Filipino run, CheapHotels.ph encourages visitors to the site to take advantage of great discounts at hotels in Manila and the beautiful resorts of the famous Boracay and Palawan.
The site will compare rates at the top sites available online to ensure users are getting the lowest rates available. This is an amazing time and money saving feature that brings the best of the web together in one listing.
Whether planning a trip to New York, Paris, Manila, or the beautiful islands of Boracay or Palawan, CheapHotels.ph brings the best hotel deals to visitors around the world.