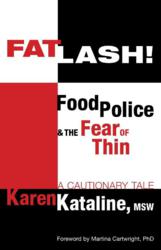 It is pure folly to think that restricting what other people eat will result in either passive obedience or weight loss.
Denver, CO (PRWEB) September 26, 2012
Karen Kataline does not like food restrictions—whether they are on large-sized sodas, part of the new school lunch programs, on salt, trans-fats or even German chocolate cake. "It may seem counter-intuitive," Karen says, "but banning specific foods or other ingredients actually feeds food obsessions, eating disorders and weight problems." In the case of recent food revolts in school cafeterias in Kansas and a growing black market on chocolate syrup in New Bedford, Massachusetts, "It also makes hungry and angry kids," she said.
Kataline knows whereof she speaks. When she was only seven, her mother put her on 500 calorie-a-day diets. FATLASH! Food Police & the Fear of Thin, is Karen's new book which details her midnight raids to the refrigerator, her experience in child beauty pageants and how by the age of sixteen, she weighed 285 pounds.
"You'd think we'd know by now, that when we put something off limits and treat people as if they are uncontrollable, they often behave that way. Normal substances become more appealing than ever and the result is more FATLASH."
With an MSW from Columbia University, Karen also explains through her personal story, the phenomenon of parents who live vicariously through their children and how women and children alike, may actually use obesity as protection from unwanted attention and sexual display.
FATLASH! tells a powerful story of how Karen felt exposed, vulnerable and naked, though it took her 25 years to find out why.
With a Foreword by Martina Cartwright, Phd., a registered dietitian who also writes about child beauty pageants, FATLASH! is a groundbreaking, personal account of why food restriction and food regulation is a bad idea, whether it is imposed by an obsessed parent or a misguided lawmaker.
Author and speaker, Karen Kataline, MSW, has practiced in a variety of non-profit and corporate settings. Fatlash! is her first book. For more information visit http://www.karenkataline.com
Martina Cartwright, Ph.D, RD., has written extensively about child pageants and eating disorders for Psychology Today Online.
Galleys available upon request.
Fatlash! Food Police and The Fear of Thin— A Cautionary Tale will be available November 1 from Amazon, Barnes & Noble, and wherever books are sold.