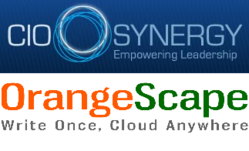 "We are thrilled to have OrangeScape at CIOsynergy New York. As leading provider of application platform-as-a-service, their presence will provide event attendees with an additional layer of industry insights and thought leadership," says Patrick Mason
New York, NY (PRWEB) September 24, 2012
OrangeScape Technologies, one of the leading global 10 platform-as-a-service (PaaS) providers, has announced its participation at CIOsynergy, an important industry event scheduled on September 27th at the Park Central Hotel, New York .
CIOsynergy New York is an exclusive opportunity for leading local CIO and IT executives to network and brainstorm daily hurdles in an unparalleled learning environment under the umbrella of the founder of Travelocity.com, keynote of the event Terry Jones. As chairman of Kayak.com and former CIO of American Airlines, Mr. Jones will share insights from four decades of success including the techniques he's deployed to keep up with today's rapidly changing world.
"We are thrilled to have OrangeScape at CIOsynergy New York. As leading provider of application platform-as-a-service, their presence will provide event attendees with an additional layer of industry insights and thought leadership," says Patrick Mason, Director of Communications and Marketing
At CIOsynergy New York a panel of leading CIOs moderated by Scott Shuster, will share and explore how CIOs can be successful in their role. Mr. Shuster has led virtually every Business Week CEO, CFO, and CIO conference held since the founding of the magazine's events group more than 100 of the world's most prominent gathering of large company leaders and senior executives.
Open to Fortune 500's and mid-market enterprise, CIOsynergy's events gathers senior executives from the office of the CIO, including Directors, VPs, Chief Architects, CTOs and CIOs.
Qualifying CIOs, CTOs, Chief Architects and direct reports can register without a fee here. This event is strictly INVITE Only and hence RSVP here.
About OrangeScape
OrangeScape is a leading Platform-as-a-Service (PaaS) company and one of 10 companies featured in the platform-as-a-service research reports of Gartner and Forrester. OrangeScape's platform enables the creation of SaaS or cloud-based or on-premise business applications for lSVs and large enterprises. OrangeScape platform has been used to develop applications nearly 100 different categories like sophisticated loan origination, vendor collaboration suite, ERP and simple apps like timesheet, expense management and the likes. OrangeScape's customers include United Biscuits, AstraZeneca; Citi; Pfizer, Fullerton and many more. OrangeScape has offices and partners in USA, UK, Europe and India. Most recently, Google announced OrangeScape as a prime technology partner for Google App Engine
OrangeScape has two offerings : OrangeScape Visual PaaS targeted for enterprises for creating sophisticated business applications and KiSSFLOW a simple and easy workflow for Google Apps customers. OrangeScape offers Premium Trial that comes with US$ 2,000 worth FREE consulting.