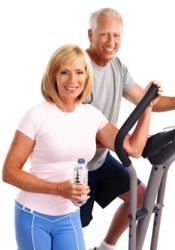 Things like vibrating alerts, increased font size, audible alerts and others remove visual acuity
(PRWEB) September 23, 2012
Watch screens are relatively small, so Polar and other heart rate monitor manufacturers are adapting with screen zoom functions and larger fonts according to the Heart Rate Watch Company. Polar heart rate monitors and others have been moving to adapt to this active aging population.
"Dealing with an active, aging population has been on the radar for a decade now", says Rusty Squire, President of the Heart Rate Watch Company. He adds, "It is just in the past two years where real difference-making features have come to bear".
HAVE IT YOUR WAY
Polar added a zoom feature to their Polar RCX5 and Polar RCX3 watches for triathletes, runners and cyclists. "For those that have good near vision they can leave four metrics up per screen but for older eyes you can zoom and go to two metrics", says Squire.
GO BIG OR GO HOME
Suunto with its M-Series has gone to some of the largest possible fonts with the Suunto M5, M4 and M2 with a smaller zone, time or calorie display beneath.
CUSTOM SCREEN CONFIGURATION
Many of the heart rate monitor manufacturers like Polar, Suunto and Garmin are allowing individuals to go with some level of screen customization that allows them to determine the number of data fields that appear on one screen. "All of this is just adapting aging and people staying active later in life", says Squire. He adds, "Things like vibrating alerts, increased font size, audible alerts and others remove visual acuity from the equation and not many older people want to whip out their reading glasses during training".
Thoughtful adaptation to an aging population will be necessary if fitness companies want to retain a healthy market according to Squire.