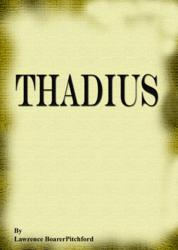 Fiction allows an author to take historical time frames, events, and figures and weave them into a story that gives the reader the feel of living in that moment
(PRWEB) September 24, 2012
Two new exciting works of historical fiction are hitting Amazon on October 1st 2012. Sawbones is a novella that follows the action packed exploits of an American Civil War surgeon who discovers a plot to kidnap the son of the President. The story is filled with historic detail and American Nineteenth Century ambiance.
Thadius is the story of a sixty year old, retired Roman General who is summoned to the furthest reaches of the Republic to solve a murder. Just one problem, the killer isn't quite done yet. Come with Thadius and his friend Dominus as they travel the Roman world in search of answers; who's committing these murders? Why are they doing it? Can they be stopped? It is a rich, full, story that delves into the heart of a man in his golden years, who finds that age is not the barrier to enjoying life, his mind is. The late Roman Republic may never be the same when all is revealed.
Lawrence had this to say about his two new works, "Fiction allows an author to take historical time frames, events, and figures and weave them into a story that gives the reader the feel of living in that moment. I hope that those who purchase Thadius and Sawbones will enjoy the historical flavor of each story."
Lawrence is best known for his novel The Lantern of Dern Blackhammer, and In the World of Hyboria. Now we see that the author can deliver historical fiction just as well as fantasy. The reader will be drawn into a textured world of ancient grit and intrigue in Thadius, and find the smoky taverns and dusty highways of Virginia a pathway to danger in Sawbones. If you like these two themes, ancient Rome and the American Civil War, you should seek out these two new books by Lawrence BoarerPitchford.
Lawrence BoarerPitchford lives and writes in the Sacramento Valley of California. Visit his website and his blog about fiction, science fiction, and fantasy. Take a moment to explore BoarerPitchford.com and visit the author on Facebook, Twitter, and Goodreads.