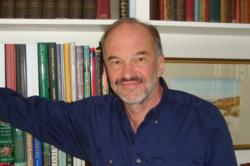 Not since Kenneth Roberts has anyone written of early New England life in such vivid and convincing detail. . . .[Begiebing is] a gifted writer with an extraordinary feeling for the past. Novelist E. Annie Proulx
(PRWEB) September 24, 2012
Books have stories to tell as they journey through the marketplace. The strange story of Robert Begiebing's first novel—The Strange Death of Mistress Coffin—isn't over yet, but it's taken a very happy turn.
In the late 1980s Begiebing was a mid-career English professor at Southern New Hampshire University with three well-received volumes of literary criticism under his belt. But that wasn't what he wanted to spend the rest of his life writing. "I wanted to get back to the fiction and poetry I had tried to write when I was young," he said, "and I felt that if I didn't try it then, it might soon be too late."
At the time he was reading Charles Bell's 1888 History of the Town of Exeter, New Hampshire—"Just for fun, and to learn more about where I lived," he said. There he came across a brief reference to the unsolved murder of a young woman in that town in 1648. Begiebing tried to learn more, but found too many blanks in the historical record for anybody to construct a nonfiction narrative about the event. He knew, however, that a novelist's imagination—combined with a historian's command of the milieu—could fill those blanks quite dramatically.
So Begiebing became a historian as well as a novelist. The Strange Death of Mistress Coffin was published by Algonquin Books in 1991 and was an immediate critical and popular success, blending the best qualities of a variety of genres—crime, epistolary, historical, Gothic—into a single rich literary stew.
Novelist E. Annie Proulx, writing in the New York Times Book Review, said, "Mesmerizing. Slowly, subtly, the story twists on itself like a pinned snake. . . . Not since Kenneth Roberts has anyone written of early New England life in such vivid and convincing detail. . . .[Begiebing is] a gifted writer with an extraordinary feeling for the past."
The book was chosen as a Main Selection of both the Mystery and Literary Guild book clubs, and it went through three hardcover printings. It has also been optioned for film production no less than five times—and counting.
A paperback edition was issued by Algonquin in 1996, but subsequently Mistress Coffin mysteriously disappeared. "By 2005 you just couldn't find it any more except used," said Begiebing. "In effect, it was out-of-print, but Algonquin wouldn't admit that because once that was official, the book's rights reverted to me. Eventually they said they were going to re-issue it as an eBook, but another year went by and nothing happened."
Finally, after some hectoring by his agent, and with legal help from the Authors Guild, Begiebing was able to exercise the reversion clause of his contract with Algonquin. In the interim Begiebing had published two other acclaimed novels set in early New England, both with the University Press of New England: The Adventures of Allegra Fullerton (1999) and Rebecca Wentworth's Distraction (2003). The latter won that year's Langum Prize for historical fiction.
Begiebing asked UPNE if they'd like to be the publisher of all three of his novels, and that opportunity was seized just in time for a 20th anniversary paperback—and eBook—edition of The Strange Death of Mistress Coffin. Both appeared on August 1, 2012. A film trailer for the book is available on YouTube at the following link: http://www.youtube.com/watch?v=RHjr7sjFvhA
Nowadays Begiebing is a full-time novelist and Professor of English Emeritus at SNHU. He retired from teaching at SNHU in 2011, five years after founding that school's low-residency MFA in Fiction & Nonfiction program. "Bob remains both a personal and spiritual presence in our program, and an inspiration to both students and faculty," said novelist Diane Les Becquets, who succeeded Begiebing as that program's director.
Begiebing's new fiction, meanwhile, has taken a different turn. The Turner Erotica, a novel about the life of English landscape painter J.M.W. Turner and his secret catalogue of original erotic art, will be brought out by the Ilium Press this spring.
And on September 27, at 7 p.m., Begiebing's classic first novel will, in a sense, come full circle. In an event co-sponsored by the Exeter (NH) Historical Society, Begiebing will read from and speak about his book at Exeter's Water Street Bookstore.
Mistress Coffin—like the real woman by whom she was inspired—was on her way to the Exeter marketplace on that fateful day in 1648. Thanks to the storytelling magic and the dogged persistence of Robert Begiebing, she'll finally make it there.