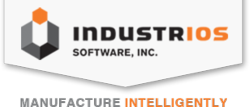 This partnership will educate our local ERP consultant community and their customers about Sage 100 ERP and Sage 300 ERP manufacturing software available to enhance their customers experience." - Adrian Montgomery Founding Partner ERP VAR.
Dana Point, CA (PRWEB) September 27, 2012
ERPVAR.com, a network comprised of Sage Software, Microsoft Dynamics, Epicor, NETSUITE, Intacct and Intuit value-added-resellers (VARs), announced today the formation of an elite partnership with INDUSTRIOS Software, Inc. INDUSTRIOS is the leading distribution and manufacturing software developer for Sage 100 ERP (formerly MAS 90 and MAS 200) and Sage 300 ERP (formerly Sage ERP Accpac).
INDUSTRIOS and ERP VAR will engage in a monthly webcast series to educate Sage 100 ERP and Sage 300 ERP VARs and customers about distribution and manufacturing software available to enhance the Sage 100 ERP and Sage 300 ERP user experience. The Sage 100 ERP VARs and Sage 300 ERP VARs will have the opportunity to invite their customers to each webcast.
INDUSTRIOS is an integrated Sage 300 ERP and Sage 100 ERP manufacturing and distribution software that meets a variety of customer distribution and manufacturing requirements. INDUSTRIOS provides customers in Make to Order, Make to Stock, Assemble to Order, Configure to Order and Mixed Mode environments with a feature rich software solution. INDUSTRIOS has customers in a wide variety industries including the retail goods distribution, aerospace, automotive, electronics and materials manufacturing industries. INDUSTRIOS' twenty years of experience in these sectors is evident in the extensive line of software modules, developed to serve the distribution and manufacturing needs of these businesses.
The INDUSTRIOS software suite helps distributors and manufacturers manage customers, vendors, inventory, support operational transactions including quotes, sales, shipping, purchase and work orders with a robust set of support and planning tools. The INDUSTRIOS solution includes modules to help distribution and manufacturing customers improve productivity, streamline processes and ultimately, increase profitability.
About ERP VAR:
Established in 2012 and headquartered in Orange County, CA, ERP VAR represents the collective expertise of Sage 50 (formerly Peachtree), Sage 100 ERP (formerly MAS90 and MAS 200), Sage 500 ERP (formerly MAS 500), Sage ERP X3, Epicor, Microsoft Dynamics GP, NETSUITE, and QuickBooks Enterprise third party developers combined with the expertise of local implementation consultants. These local ERP consultants provide end users with a thorough needs analysis to determine which ERP software functionality is required to address their unique needs. If a business process assessment is required the local channel partner is enlisted to provide a comprehensive examination with end user company departments to insure the correct ERP software is selected implemented and the staff is properly trained. For more information please visit http://erpvar.com.
About INDUSTRIOS Software, Inc.
INDUSTRIOS Software, Inc. has a long history, since 1989, of providing distributors and manufacturers with solutions to manage their operations, improve customer service, and streamline and simplify daily activities in their organizations. The mission at INDUSTRIOS continues to focus on the unique requirements of small to midsized companies and provide solutions that enable customers to grow and prosper through better informed business decisions.