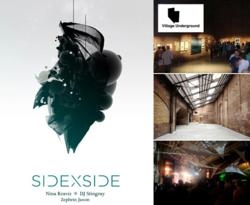 DJs have time to push boundaries, to dig deeper into their record collections, pulling out classics, dance floor destroyers, guilty pleasures to hidden treasures
London (PRWEB UK) 25 September 2012
The third announcement in our first run of SIDEXSIDE events is as special and unique a combination as can be. Nina Kraviz, the name on everyone's lips in the world of house and techno goes head to head, shoulder to shoulder, toe to toe and deck to deck with Detroit legend and Urban Tribe founder, DJ Stingray (aka Sherard Ingram).
Nina Kraviz
Very rarely does a DJ shoot to stardom as quickly as the young and ever so talented Nina Kraviz. Mixing her raw blend of house, techno, acid and rare groove, she has toured the globe many times over in a relatively short space of time and her productions are supported by the who's who.
DJ Stingray
DJ Stingray has been a legendary presence in the world of techno for over 20 years where he took his influences from Jeff Mills and Derrick May. Growing up in Detroit he founded Urban Tribe with DJ partner Kenny Dixon Jr, this was quickly followed up by a release of his debut album on Mo Wax Records in London featuring collaborations with long time friends Carl Craig, KDJ and various others. Ingram's latest projects include collaborations with Carl Craig and Planet E and the launch of his new label Micron Audio Detroit.
Zephrin Jaxon
Zephrin has been part of London's electronic community for many years always as a DJ, offen as a promotor but in latter years he has grown into production. His appreciation of early electronic music manifests itself by using a mixture of classic synths & drum machines with cutting edge equipment to create a sound born out of love for music and a passion to create original work
Tickets on Sale: Friday 17th August priced from £15 - £20
For more info and tickets please visit: http://www.residentadvisor.net/event.aspx?397055&p=zephrinjaxon