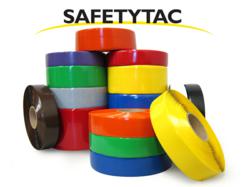 "The SafetyTac tape is the easiest way of marking floors. We were able to apply it quickly and easily. We had no downtime away from production what so ever."
Lake Oswego, OR (PRWEB) September 29, 2012
The industrial market is becoming more automotive with more forklifts, trucks and vehicular operations that make for a harsh environment. When floors need to be marked off for aisles and safety areas, SafetyTac Industrial Floor Tape has become the strongest and most durable of all floor marking tapes. Customer feedback has been overwhelming with comments that it outshines all the rest.
Durability tests have proven a 4000 lb pallet dragging over the tape by a forklift numerous times does not cause the tape to rip or peel away. Painted floor lines and cheap vinyl aisle marking tape will eventually chip, peel, or crack especially in areas with heavy traffic. In addition, paint lines will cause a lot of downtime due to closing down the area and allowing the paint to dry.
SafetyTac tape offered through SafetyTac.com outperforms the rest with its strong adhesive and double-tapered edge making it feel like it is part of the pavement. The strong rubber based adhesive will stay put until removal is needed. It removes clean and does not leave a sticky residue. The tape will work on all facility floors including pavement, concrete and asphalt. No applicator is needed for installation due to the easy peel-&-stick application. A warehouse supervisor commented, "The SafetyTac tape is the easiest way of marking floors. We were able to apply it quickly and easily. We had no downtime away from production what so ever."
Please visit http://www.safetytac.com for more information about the complete line of SafetyTac Tape for all floor marking needs. Or call toll-free (888)246-6770 to speak to a professional for answers to all your questions.