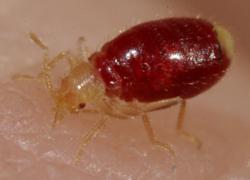 (PRWEB) September 23, 2012
New York bed bugs can be eliminated by following the strategies, tips, and ideas published in a special online guide for New York City. Bed bugs are ant like bugs that operate like ninja warriors at night, creating panic upon the inhabitants of the dwellings that they invade. Once a bed bug colony establishes itself in a room, it can seem like a very daunting task to eliminate them.
Donny Lowy, a an entrepreneur who runs CloseoutExplosion.com, a closeout wholesale business in New York, has published a collection of articles online to help residents, property managers, and exterminators gain the upper hand against the bed bug onslaught that is facing Manhattan, Brooklyn, the Bronx, Queens, and Staten Island. While bed bugs were almost once eliminated, due to the main pesticide, DDT, being prohibited for use, they have made a striking come back in many metropolitan and urban locations. The main challenge with bed bugs is that if any of them remain after an extermination, they can quickly reproduce and create a new round of havoc.
The free online bed bug guide that has been published covers important techniques and tips that deal with New York bed bugs, such as:
Understanding Why Bed Sprays Might Not Stop A New York Bed Bug Infestation.
Are There Bed Bugs In New York Hotels?
Why You Need To Know What The Real Symptoms Of Bed Bugs Are
Can You Kill Bed Bugs In New York Without An Exterminator?
Knowing How To Spot Bed Bugs In New York Apartments
What You Should Never Bring Into Your Home If You Want To Avoid A Bed Bug Invasion
The Fastest Way To Wipe Out A Bed Bug Infestation
How To Find And Destroy Bed Bug Eggs
What You Should Never Do If You Discover Bed Bugs In NYC, or Anywhere Else
The Favorite Hiding Places For Bed Bugs In New York
New York City Council Speaker Christine Quinn understood the challenges faced by the bed bug resurgence, as reports surfaced of sightings in high end hotels like the Waldorf Astoria, the Nike flagship store in Soho, and even at a Times Square movie theater. Luckily, no bed bugs have been reported in the New York Apple retail store, which is frequented by countless international shoppers.
"The challenge with dealing with bed bugs is that they are easily transported in luggage, on people's clothing, and in clothing shipments. To eradicate bed bugs you need to first exterminate any that are present, and then use products such as Diatomaceous Earth (diatomite), which is a powder made from fossilized remains of microscopic shells created by single celled plants that are known as Diatoms. You can use bed bug catchers, but if you do end up catching a bug, I would recommend that you use the services of a licensed New York exterminator," said Donny Lowy.
He continued, "Bed bugs have developed resistance to many of the chemicals being used against them, so another option is to use a heating treatment known as thermal remediation, which should definitely be done by a professional exterminator. Remember, if you live in a New York apartment building, the entire building should be treated, otherwise the bed bugs will only scatter to another apartment and then return later on."
The purpose of the New York bed bug website is to provide general information, and direction, for those who are moving to, or currently living in New York, and want to win the battle against bed bugs.
"Lastly, if you suspect you might be living with bed bugs, the last thing you ever want to do is panic. Do not resort to any drastic or unsafe solutions. There are plenty of remedies sold on Amazon, and even non toxic bed bug treatments available online."