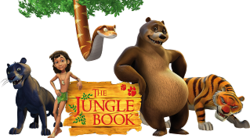 We look forward to building on the success and equity of The Jungle Book brand with a full complement of quality toys to delight the young fans of 'The Jungle Book' that is currently broadcasting on Disney XD in the U.S......
Los Angeles, CA (PRWEB) September 24, 2012
SMC ENTERTAINMENT GROUP, INC. (SMC) brand owner of the new The Jungle Book 3D, CGI animated TV series, licensing and merchandising, home entertainment and promotional rights for North America, Australia, New Zealand and South Africa has signed Sun-Mate Corporation as the Master Toy licensee for these territories. The deal was announced by Sharon Leviton, SVP Business Development & Marketing for SMC.
As the master toy partner, Sun-Mate, whose licensed partners include Disney, Mattel, Marvel, Cartoon Network, Sanrio and WWE among others, will hold design, manufacturing, and distribution rights to "The Jungle Book" line of toys. The company will launch a range of toys that will include articulated action figures, figures and play sets, collectibles, watches, adventure toys, youth electronics, walkie-talkies and other novelty toys.
Preview of The Jungle Book Master Toy Line set for Dallas Toy Show 2012.
"Sun-Mate has an impressive over 25 year history of creating innovative products for kids and is recognized by global retailers as a preferred partner for manufacturing," said Leviton. After evaluating all of the master toy company options, it was Sun-Mate's commitment to a substantial TV advertising campaign, their extensive retail relationships, manufacturing capabilities and level of commitment that made this an easy decision for us with our Jungle Book brand."
"We look forward to building on the success and equity of The Jungle Book brand with a full complement of quality toys to delight the young fans of The Jungle Book that is airing on Disney XD in the U.S.," said Rami Ben-Moshe, President, Sun-Mate Corporation. "With fantastic visuals, this property encourages exploration and value lessons that will resonate with today's parents and entertain children everywhere. We plan to create top-tier toy products that maintain the integrity of this classic brand."
This announcement comes on the heels of SMC inking a three year Global promotional deal with Burger King that includes an annual 18 million kid's meal premium, TV and in-store advertising and a text mobile campaign starting Summer 2013.
Additional licensing partners for The Jungle Book include: Phase 4 Films (home entertainment), Isaac Morris (master apparel), Komar (sleepwear and robes), Seasons USA (costumes and Halloween accessories), Nanco–Nancy Sales Company (amusement/crane machine plush), Insight Editions (publishing), Pacific Play Tents (tents and tunnels), My Idol Pops (molded lollipops), The United States Playing Card Company (traditional playing cards), Cosrich (HBA and first aid), Hilco (candy/candy toppers), Wonder Treats (Easter and Christmas baskets), Buy Seasons (online party goods), Craftstone (2D plush, fabric storybooks, mini blankets, pillows/cushions and plush hand puppets), Walls 360 (removable wall decals, wall graphics and stickers – online sales) and Wondertreats (Easter baskets).
About SMC Entertainment Group, Inc:
SMC Entertainment Group, Inc., headquartered in Los Angeles, CA is the North American brand owner for television, home entertainment, licensing, merchandising and promotional rights to the new 3D CGI animated TV series The Jungle Book (now airing on Disney XD) and the made-for-TV 60 minute movie special Rumble in the Jungle are from DQ Entertainment International. SMC Entertainment Group Inc. secured the master toy rights for The Jungle Book for Australia and New Zealand, plus, all licensing/merchandising, TV and Home Entertainment rights for South Africa. Most recently, SMC Entertainment Group Inc. was appointed by ZDF Enterprises as the exclusive North American licensing agent for the new teen/tween TV drama series Dance Academy and the popular 'hit' series, H20 Just Add Water, both are broadcast on TeenNick. The company is the North American licensing agent for Ladybug Girl, a New York Times Best Seller, based on the popular children's book series from Penguin Books. To date, over 2.3 million books have been sold.
About Sun-Mate Corporation: Sun-Mate Corporation is headquartered in Chatsworth, CA, with offices in Hong Kong and a joint venture factory in China that is ICTI certified and employs over 1600 dedicated team members. Sun-Mate, the Master Toy Licensee for The Jungle Book, is a manufacturer of a diverse range of quality toys for over 25 years and prides itself on designing creative and innovative products that deliver high play value. Recognized and approved as a preferred partner for manufacturing by global retailers, Sun-Mate's product categories include: Action Figures, Figurines, Play Environment Sets, Doll Houses, Construction Sets, Watches, Musical Toys and Youth Electronics. Sun-Mate licensed partners include Disney, Mattel, Nickelodeon, WWE and Sanrio. Private label program clients include Wal-Mart, Target, Toys 'R' Us, Sears, Kmart and more.