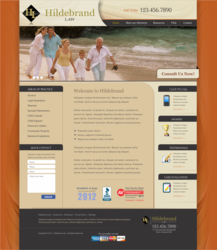 Scottsdale, AZ (PRWEB) September 25, 2012
The Scottsdale arizona divorce lawyers at Hildebrand Law, P.C. are bullish about the need for the services of experienced legal professionals practicing divorce, estate planning, and family law in the greater Scottsdale, Arizona area. When other law firms are downsizing and laying off lawyers and support staff, Hildebrand Law, P.C. is expanding the size of its office and is actively recruiting and hiring experienced lawyers and paralegals for its Scottsdale law office.
"There is a saying amongst family law professionals that people get divorced for two reasons; specifically, too much money or not enough of it", says Christopher Hildebrand, the founder of Hildebrand Law, P.C. However, Hildebrand has witnessed other law firms downsizing while his law firm continues to expand during this flailing economy. "Our experience has been different than other law firms because of the way we manage our clients' cases. We are extremely thorough and the results in our clients' cases speak for themselves. There may be less people using attorneys to represent them, but when they do hire an attorney they do their research and interview multiple law firms." Hildebrand attributes the law firm's success to the fact that they have an almost 100% client retention rate when a prospective client meets with a lawyer at the Firm.
The legal industry has taken notice of Hildebrand Law, P.C. Hildebrand was named as one of the Top Solo Practitioners to Watch in 2012 and received the coveted A.V. rating as a "Preeminent Lawyer" in family law. Hildebrand was most recently inducted into Arizona's Finest Lawyers, which is a high distinction given by a panel of lawyers, judges, and law school professors.
So, has the economy affected the divorce legal industry? It is difficult to say it has not, but the law firm of Hildebrand Law P.C. embodies the phrase "if you build it they will come". The law firm is located at 4900 North Scottsdale Road, Suite 2800, Scottsdale, Arizona 85251 and can be reached at 480-305-8300.