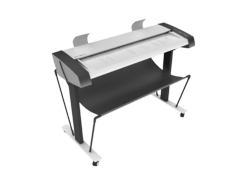 The new HD Ultra is built for productivity, and the key to productivity for high-volume applications is speed. Not just "inches per second" but actual throughput.
Rockville, MD (PRWEB) September 24, 2012
Contex, the world's leading developer of wide format scanning and imaging solutions, today announces that it will demonstrate the new HD Ultra wide format scanning solutions at the ARMA 2012 Conference & Expo September 23-25, 2012 in Chicago at the McCormick Place. At the Expo, Contex will showcase the world's fastest wide format scanner, the HD Ultra 4250. At booth #732 information management professionals can learn how to streamline their records management processes, convert their historical documents, and preserve their archives with world leading scanning technology from Contex. Visitors will also have the opportunity to win prizes including a $100 gift card from Contex after receiving a demo of the award winning scanning solutions.
"We are pleased to offer solutions that challenge the obstacles our records management and technical professionals face daily. We are able offer solutions that easily transfer documents, both small and large, from paper to various electronic formats. Our solutions enable users to manage their archives with the required security and protection required for their sensitive information. The features and benefits our solutions offer are endless", comments Steve Blanken, GM North and South America, Contex Americas.
Contex professionals and reseller partners will be onsite to provide demonstrations on the versatility and flexibility a Contex solution offers. Already compatible with any wide format printer model, visitors will see how the compatibility Contex solutions offers creates a more powerful scanning solution featuring better image quality and unmatched versatility. Contex is offering unrivalled scanning promotions that allow customers to save while receiving the best in wide format scanning technology.