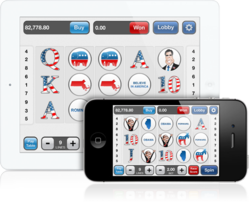 Santa Cruz, CA (PRWEB) September 25, 2012
Ocean View Marketing has released Version 1.1 of the newly popular Slots Race app, an interactive slots game that gets players to join teams and compete head-to-head in 7-day-long races. Slots Race is a free app available on the Apple App Store and is compatible with the iPhone and iPad. After the runaway success of the app's first race - East Coast vs. West Coast - Ocean View has released a new Obama vs. Romney showdown that boasts an added incentive: at the end of each race, Ocean View Marketing will donate to the winning team's presidential campaign.
In the past few weeks, the presidential race has been heating up. Be it Libya, the economy, or the 47%, the two camps have battled over just about everything and Americans have rallied behind their candidate of choice. Lauded as the most competitive slots game in the app store, Slots Race has entered the battle with its newest Obama vs. Romney slots race, released on September 19th. To play, users pick their team, aligned with their favorite nominee, and then spin the slots in an attempt to earn chips that contribute to their team's score. After 7 days, a winner is crowned, and Ocean View makes a monetary donation to the winning team's candidate.
But how much does Ocean View donate? It depends on the number of players. For each tier of player counts, Ocean View ups the ante and adds another $50-$100 to its campaign donation (for full detail, visit http://slotsrace.com/president/). Players stand to win upwards of $2,000 each week for their chosen nominee, depending on how many like-minded players they get to join in on the game. In other words, over the 7 races taking place through November, players could raise up to $12,000 in total for their selected candidate's campaign.
In the same vein of "fun fundraising" events, parties, and social media campaigns, now politicos can support their party through play on the new Slots Race app. The Slots Race Obama vs. Romney race is a fun, playful way for voters to get in the presidential game and raise money for the next term's Commander in Chief.