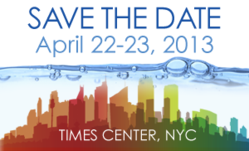 "On average, marketers spend more than a quarter of their budget on content marketing, and 60% of companies plan to increase that spending."
Hasbrouck Heights, NJ (PRWEB) September 24, 2012
Demand Gen Report (DGR) today announced dates for the second annual Content2Conversion Conference, which will be held April 22-23, 2013 at the Times Center In Manhattan. This educational event provides strategies and tactics to compete in the rapidly expanding sector of content marketing.
The April 2012 launch drew nearly 250 B2B marketing executives in fields ranging from high tech, telecom, health care and financial services, providing strategies and tactics to compete in the rapidly expanding sector of content marketing.
"Research shows that 9 in 10 organizations market with content, regardless of company size or industry, and navigating this trend is an evolving process," says Andrew Gaffney, Content Director of Demand Gen Report; President of G3 Communications. "On average, marketers spend more than a quarter of their budget on content marketing, and 60% of companies plan to increase that spending."
As B2B marketers work to gain a better understanding of the buyer's journey and how to accelerate and support that journey with content, the 2013 Content2Conversion Conference will present key insights and topical takeaways such as:

Benchmark research on business executives' content preferences
Mapping out a buyer framework based on your key objectives
Creating powerful content for SEO
Social media strategies
Cultivating a greater role in prospect's discovery process
Implementing content-based nurture programs
Content for the complex sale
Attendees from the 2012 event included top marketing executives from leading Fortune 500 companies such as American Express, IBM, Oracle, and SAP.
"As content marketing becomes a more prominent discussion in the B2B space, it is paramount that organizations have the optimal strategies in place," Gaffney explains. "Today's buyers are turning to search engines and social networks to learn about solutions more frequently. Our goal is to help attendees navigate in these areas, all while developing relevant and cutting edge content collateral."
Hosted by Demand Gen Report, the B2B Content2Conversion Conference is an educational event focused on strategies for mapping, developing and utilizing content marketing to nurture the buyer relationship and enhance conversions. The event will be held April 22-23, 2013 in Manhattan at The Times Center. Click here for more information or to register.
About Demand Gen Report
Demand Gen Report (DGR), a division of G3 Communications, is a targeted e-media publication spotlighting the strategies and solutions that help Business-2-Business (B2B) companies better align sales, marketing and disparate teams to support growth and drive revenue. DGR content and news coverage focuses on the sales and marketing automation tools that enable companies to better measure and manage multichannel demand generation efforts. Demand Gen Report is the only information source directly focused on this rapidly emerging business discipline.