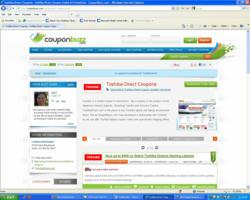 Our Buzz Guides cherry-pick the very best of the available coupons...
Houston, TX (PRWEB) September 24, 2012
Today CouponBuzz.com posted a new Toshiba coupon for $100 dollars in instant savings on the Tecra R950 laptop for small business. This offer is in addition to the already impressive $149 dollar component rebate on the computer, and drops the price to just $599. This particular offer from Toshiba is a limited time offer, and is only valid until September 25th, 2012. It is conveniently located at the top of CouponBuzz.com's recently launched section for Toshiba coupons. The dedicated Toshiba web page enables the coupon aggregate website to highlight time-sensitive deals like this one in a way that online shoppers can easily locate.
"One of the reasons CouponBuzz.com decided to launch individual web pages for many of our merchants was to provide a helpful resource where shoppers could see at-a-glance all of the top deals a merchant was offering¸" explained Justin Bowen, one of the founders of CouponBuzz.com. "Our Buzz Guides cherry-pick the very best of the available coupons and feature them with a high buzz score at the top of Toshiba.com's dedicated section."
Toshiba's Tecra R950-SMBN22 laptop for small business is a premium computer built to stand up to the banging around business laptops tend to take. The shock-absorbing design, built with a honeycomb structure and fiberglass-reinforced chassis, guarantees that it can take a lot of abuse and still perform like a champ. While a lot of brands force small business consumers (as well as the individual shoppers who prefer this kind of durability) to pay through the nose for the 'rugged' aspect, the Tecra R950 is already budget friendly, even before the $100 dollar instant savings Toshiba coupon.
Because businesses have varying needs, as do interested individual shoppers, the Tecra R950 is highly customizable. Consumers can choose between a variety of Intel Core processors, from i3 to i7. Hard drive size can be customized from a modest 320 GB to 750GB, and memory from 2GB to 8GB. The screen size is set at 15.6 inches, but resolution can be customized at 1366x758 or 1600x900. A host of other customizable options are also available. For a full list of these and other specifications, consumers can check the Toshiba coupon link featured in the CouponBuzz.com's Toshiba coupon section, here http://couponbuzz.com/toshiba-direct-coupons.html.