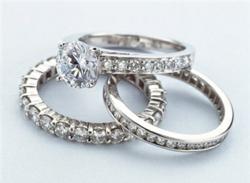 Buying diamonds online offers more variety and better quality diamonds at a lower cost.
(PRWEB) September 23, 2012
Buying a diamond is likely one of the most important purchases that consumers will make in their lifetime and, as such consumers value the importance of doing research before purchasing. However, with the multitude of options available, it is easy for the average consumer to get lost in a sea of retailers and suggestions. Purchasing a diamond is similar to buying a car; the dealer will highlight all the best features of the models available, while conveniently leaving out the disadvantages. It is no secret that jewelers are biased towards their products and ultimately are concerned about the bottom line. This is where an unbiased third party can be invaluable – especially in helping the purchaser to determine which diamonds are the best quality in a given price range. Ironically, this too can be frustrating and confusing when trying to piece together the vast amount of available information.
Online Diamond Buying Guide creator Paul Gian set out with the ultimate goal of sharing the knowledge he gained from years of studying diamonds with the world at large. OnlineDiamondBuyingGuide.com was developed to be a single-stop resource for all of the information consumers should know before purchasing a diamond. With a collection of articles ranging from how to select a cut, color, carat weight and clarity as well as detailed pictures to aid in the learning process, Mr. Gian provides consumers with his best knowledge on how to choose diamonds.
Mr. Gian helps to debunk common myths about diamonds, all the while explaining details in plain language, making the articles easy to understand for the average consumer. "The utmost factor in diamond choosing is cut," explains Gian, "as it determines the brilliance and beauty of the diamond." Further to explaining the basics of diamonds, he walks consumers through largely misunderstood factors such as diamond fluorescence, symmetry and how to understand and use a diamond grading certificate.
In addition to providing general information that consumers will find useful to purchasing diamonds, the Online Diamond Buying Guide also recognizes the importance of choosing a reputable dealer to purchase from. For this reason, individual jeweler reviews are featured in order to highlight the pros and cons of each. Consumers interested in purchasing from a select few dealers can, for example, view a review of James Allen and compare that with a review of Blue Nile to determine what return policies, website features and warranties each of these retailers offer.
ABOUT ONLINEDIAMONDBUYINGGUIDE.COM
Website creator, Paul Gian began studying diamonds using scientific analytical skills gained while working as a research officer. Now a self-proclaimed diamond geek, Mr. Gian developed the Online Diamond Buying Guide to help consumers make educated decisions on their diamond purchases. Consumers interested in purchasing a diamond should first begin their research at http://onlinediamondbuyingguide.com in order to arm themselves with knowledge before beginning to shop.