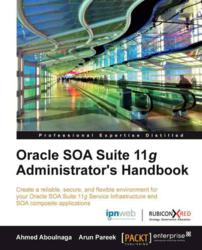 (PRWEB) September 24, 2012
Packt is pleased to announce the publication of Oracle SOA Suite 11g Administrator's Handbook a step-by-step tutorial explaining all management and core administrative activities of the Oracle SOA Suite. This book is available now in print, eBook, Kindle and select library formats. The print book comes in at over 380 pages and is competitively priced at $53.99, whilst the e-book and Kindle versions are available for $30.59.
About the Authors:
Ahmed Aboulnaga: Ahmed Aboulnaga is a Technical Director at IPN Web, Inc., a full life cycle systems integrator headquartered in Maryland, USA. He has an OCE (Oracle SOA Architect) and OCA (Oracle Application Server) and has presented at OpenWorld, Collaborate, OAUG, IOUG.
Arun Pareek: Arun Pareek is an IASA certified software architect and actively works as a SOA and BPM practitioner. He has worked in the capacity of consultant and architect in the implementation of a variety of SOA-based projects. Arun is also an active blogger, and runs a popular blog at Beatechnologies.Wordpress.com
Oracle SOA Suite 11g Administrator's Handbook begins with managing composite applications, its deployments and lifecycles and then moves on to monitoring instances, service engines, and Weblogic Server. Readers will learn to configure MBeans using both Oracle Enterprise Manager Fusion Middleware Control and WLST-based scripts.
Through this book readers will be able to automate composite deployments and promote code using configuration plans. They will learn to performance tune the service infrastructure and dehydration store database. Users will learn to troubleshoot exceptions in Oracle SOA Suite 11g and configure and manage security policies using OWSM and back up and recover the environment.
Essential chapters covered in this book are:
Chapter 1: SOA Infrastructure Management: What you Need to Know
Chapter 2: Management of SOA Composite Applications
Chapter 3: Monitoring Oracle SOA Suite 11g
Chapter 4: Tuning Oracle SOA Suite 11g for Optimum Performance
Chapter 5: Configuring and Administering Oracle SOA Suite 11g
Chapter 6: Troubleshooting the Oracle SOA Suite 11g Infrastructure
Chapter 7: Configuring Security Policies for SOA Composites
Chapter 8: Managing the Metadata Services Repository and Dehydration Store
Chapter 9: Backup and Recovery
Packt Publishing has also released and is due to publish other Oracle SOA books:
1) Oracle SOA Infrastructure Implementation Certification Handbook (1Z0-451) (published)
2) Oracle SOA Suite Developer's Guide (published)
3) Oracle SOA Suite 11g R1 Developer's Guide (published)
4) Oracle SOA Suite 11g Developer's Cookbook (forthcoming)
Packt Publishing as developed and published over 90 Oracle Books over the last few years. A complete listing of all Oracle books and eBook can be found on the Packt website. Packt Enterprise develops books for Architects, Developers, Administrators and End User alike.