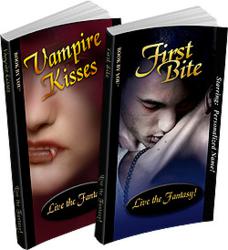 Twilight and Vampire Diaries fans can star in a personalized vampire novel!
London, ON (PRWEB) September 24, 2012
Everyone has been waiting a for the final "Breaking Dawn" movie—and there's been a lot of turmoil in the off-screen world of stars Robert Pattinson and Kristen Stewart, but now that they're back in the land of love, "Twilight" fans and vampire lovers can celebrate by starring in their own personalized vampire books.
Book By You offers two personalized books, "Vampire Kisses" and "First Bite", which vampire fans will devour wholeheartedly. In "Vampire Kisses," a young co-ed encounters a mysterious and handsome stranger at a party and later decides to track him down, only to find that the tables have turned, and she's the one being hunted! In "First Bite," the perfect novel for paranormal teen romance fans, hero and heroine meet in a dark library and are instantly drawn to each other, and though he tries to stay away, afraid his dark impulses may overcome him, he finds her irresistible. Both personalized books are full of suspense, intrigue, and romance—will love conquer all, with the hero and heroine together forever, or will dark nature and mystery keep them apart?
"Twilight" fans can stave off their vampire fever—or, perhaps, bolster it—by personalizing either of the two vampire books. Personalize both the hero and heroine of each novel and creating the perfect midnight snack. With Book By You's vampire books, anyone can be the star of their own romance, one to rival that of Edward and Bella. Who wouldn't want to star in their own lusty, intense romance by co-authoring "First Bite" and "Vampire Kisses" by selecting the names and features for the four main characters in the books. Readers can include best friends, a significant other or Hollywood stars—even include a pet. The characters' hair color, eye color, figure, favorite restaurant and drink are some of the story's 26 personalized characteristics that result in thousands of personalizations in each of these 200-page books.
Book By You founder, Mike Pocock, says, "Both 'Vampire Kisses' and 'First Bite' are perfect ways to pass the time while waiting for the final installment of 'Twilight' to hit theaters. These two personalized books will satisfy any vampire fan's hunger for the paranormal, not to mention romance. This is a new level of vampire story-telling—the world's first personalize-able vampire novels! "
To purchase a personalized novel, vampire lovers go to the company's website at BookByYou.com and complete a character questionnaire specifying the information to be included in their book. The company offers a free demonstration area where readers can preview personalized excerpts from any of the company's teen, romance, mystery or children's personalized books. Media interviews are available upon request and additional information and promotional images are available upon request.
BookByYou.com has received national media coverage and been featured on ABC's The View, CNN, Fox News, The Wall Street Journal, Jimmy Kimmell Live and many additional media outlets.
BookByYou.com is an interactive publishing company and is the world's largest provider of personalized books. Media interviews, promotions and give-aways are available upon request. Please contact Michael Pocock at 1-877-898-1440 or publish(at)BookByYou(dot)com