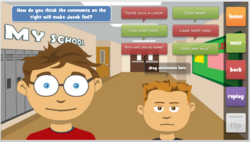 "The course does not use institutionally approved language. We call it how it is, and we give parents or guardians and their children the tools to create a concrete plan to prevent bullying." Lou Paris, co-owner of No Bully Fear
Daytona Beach, FL (PRWEB) September 25, 2012
No Bully Fear, a new bullying prevention course developed by a team of educators, child psychologists, combative instructors, corporate conflict coaches and parents, is now available online for families. Recommended for children 8-12 years of age, the engaging and character-driven course focuses on motivating families to map out customized goals and to develop safe tactics to prevent and counter cyber, physical and verbal bullying.
During the 16 interactive episodes running 10-15 minutes each, No Bully Fear facilitates a conversation between the parent and child. "It is an online course, where families get all the benefits of our face-to-face training, but from the comfort of their own homes," said Lou Paris, co-owner. "Like many parents, Mike (Mike Panebianco, co-owner) and I are no-nonsense kind of people. For that reason, the course does not use institutionally approved language to talk about bullying. We call it how it is, and we give parents or guardians and their children the tools to create a concrete plan. We believe participation in this program will bring us closer to eradicating bullying at our schools."
Each episode addresses specific topics, such as cyber bullying and self-defense. "We don't teach the children self-defense directly," said Panebianco whose career includes tactical training of U.S. service personnel. "Instead, we instruct the parent on how to teach their child. That way, parents have control of what their child is learning."
A 12-month course subscription may be purchased online for $79, with full access to the learning tools, episodes and any new program enhancements.
About No Bully Fear
Founded by Mike Panebianco and Lou Paris – two business professionals with tactical training and e-learning expertise, as well as doting fathers to young children – No Bully Fear is an online course created to prevent bullying of children between eight and 12 years old. It teaches families safe and goal-oriented approaches to overcoming bullying through engaging, conversational and character-driven episodes. For information, please visit http://www.nobullyfear.com. No Bully Fear can also be found on Facebook and Twitter (@nobullyfear).
###