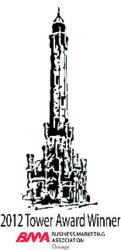 The BMA Tower Awards are recognized as one of the premier industry accolades, and we are extremely proud to be among this year's winners in two separate categories
Chicago, IL (PRWEB) September 25, 2012
Rightpoint, a leading digital agency and technology consulting company, announced today that it received two 2012 Tower Awards in an annual competition presented by the Chicago Chapter of the Business Marketing Association (BMA). The annual BMA Tower Awards recognize leading business-to-business marketing communications campaigns conducted over the past year.
Rightpoint entered two categories this year and placed in each. The agency won a Gold Tower Award in Promotional Material/Special Promotions category for its annual employee yearbook titled "More than words," which showcases what it means to love your work. Rightpoint also received a Silver Tower Award in the in the Corporate Identity/Logo Design Category for its own corporate values icons titled, "Culture is Core."
"The BMA Tower Awards are recognized as one of the premier industry accolades, and we are extremely proud to be among this year's winners in two separate categories," said Ross Freedman, co-founder of Rightpoint "Being distinguished for the work we have done within our own walls is an extraordinary illustration to our clients and to our peers the creative work we are doing across the industries we represent."
The Annual BMA Tower Awards recognize outstanding marketing communications across 41 categories representing a wide variety of industries and communications disciplines. More than 366 entries were judged by leading marketers from companies including Wells Fargo, Citrix Systems, American Red Cross, Office Depot, Siemens and Baxter Healthcare, among others.
About Rightpoint
Rightpoint is an award winning digital agency and technology consulting firm. The company brings industry-focused business strategy and technology expertise together with user experience design and creative services to help organizations transform the way they do business. Rightpoint's digital marketing solutions create brand advocacy and enhance the customer experience through digital channels to accelerate business growth. Rightpoint's enterprise solutions improve operational performance and increase employee productivity within an organization to drive increased profitability. Rightpoint delivers world-class business solutions in areas such as collaboration, social business, CRM, web, digital strategy, mobile, business intelligence and cloud. The company is deeply rooted in an "intrapreneurial", collaborative culture with a passion to "WOW" clients. Rightpoint serves global leaders such as Abbott Labs, New Balance, Whirlpool, General Mills, BP, Redbox and Kraft.