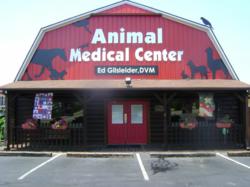 Claremore, OK (PRWEB) September 24, 2012
Edward (Ed) Gilsleider, DVM, of the Animal Medical Center in Claremore, Oklahoma, has accelerated the ability to aid suffering animals with the use of a computerized therapeutic laser. The laser treatment offers an alternative to, or a complement for, pain medications and other drugs.
The basic concept of laser therapy is a low-intensity, "cold" laser light. This light works to stimulate tissues to heal. The therapy also releases natural endorphins, which are known as the body's natural pain relievers, causing comfort and well-being for the animal.
Additionally, laser light dilates blood vessels. De-oxygenated blood is carried away quickly from the injured area via dilated vessels, allowing freshly oxygenated blood to flow in. Oxygenated blood brings with it cellular nutrients which cause cells to revive faster. This process works to accelerate healing.
As with other touch-screen computerized equipment, the therapeutic laser allows for selection of needed criteria. For instance:

Specie of animal
Body type
Coat length
Skin color
Coat color
From there, the pet's condition is selected as well as the body part. For instance, a dog is brought in who has been traumatized after being hit by a car. The back leg has been injured. When that information has been entered into the computer, it may instruct to apply 6 watts for 3 minutes and 20 seconds, or something similar. Within minutes the animal is resting comfortably.
Therapeutic laser treatment is now also included in the surgery protocol at AMC. Laser light is applied directly to the surgery site following the operation, which aids in the recovery process.
The main benefits of the laser treatment are three-fold:
Reduces inflammation
Reduces swelling
Reduces pain
Says Dr. Gilsleider, "We've seen some amazing results by using laser therapy in our clinic. Animals that are highly agitated due to pain and discomfort are quieted and subdued following laser treatment. Our clients are delighted and thankful, knowing their pet's suffering has been relieved and the animal is comforted."
About
Dr. Gilsleider graduated from Kansas State University in 1978 with a bachelor's degree in Agriculture/Animal Science. In 1982, he received his Doctor of Veterinary Medicine degree, also from Kansas State. Dr. Gilsleider is a published author of numerous articles in lay journals, veterinary journals, and texts. He has lectured to veterinarians across America and abroad. Dr. Gilsleider has pioneered several orthopedic procedures to correct leg deformities in ratites (ostriches, emu and rhea). Since then, these techniques are used widely in many other species. His practice is located in Claremore, OK, the community where he and his wife, Lisa, have lived for 30 years. The couple has four adult children, five grandchildren.
Visit Dr. Gilsleider's YouTube channel to see a demonstration of laser therapy http://www.youtube.com/watch?v=3Z4rL6I9tHE&feature=share&list=UL3Z4rL6I9tHE
Contact:
1711 North Lynn Riggs Blvd.
Claremore, Oklahoma