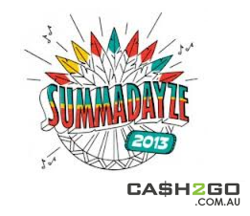 Perth, WA (PRWEB) September 25, 2012
Winter has finished, spring is here but CA$H2GO is already looking forward to Summadayze.
CA$H2GO will partner with iconic festival Summadayze – taking place in Perth on January 6th 2013.
Boasting acts such as The Chemical Brothers (DJ Set), M.I.A, Fedde Le Grand, Mark Ronson (DJ Set), Kimbra and more, Summadayze is one of Australia's leading annual events, attracting tens of thousands of festival goers in cities across the country.
CA$H2GO CEO, Tim Dean, explains: "CA$H2GO offers short term loans to keep people on the move. People attending Summadayze like to enjoy themselves, that's obvious, but sometimes they might find themselves short and unable to go to their favourite events or participate in their favourite hobbies. There's no reason they should miss out as CA$H2GO can give them that extra cash to go to their event, enjoy themselves and yet pay back at an affordable rate".
In fact, CA$H2GO will be helping its customers get to Summadayze , offering some fantastic giveaways. Tim Dean continues, "We've at least 10 tickets to give away to prize winners and 2 VIP tickets to win as well. We'll be announcing the competition to win tickets soon so watch this space and the CA$H2GO website, http://www.Cash2Go.com.au .
Tickets aren't the only prizes up for grabs with cash prizes included in the mix. In fact at Summadayze itself, the CA$H2GO team will be collecting competition entries on the day to win $1000 in cash!
Summing up the Summadayze sponsorship, Tim Dean says, "At CA$H2GO, we know from experience that more and more people are using short term loans instead of credit cards, borrowing only what they need and paying off quickly. Summadayze is our first step into promoting CA$H2GO offline and spreading the word that there is a convenient, online financial solution out there for everybody, whether to solve a problem, enable them to buy something they really want, or giving them cash to go and have a great time at Summadayze".
Summadayze 2013 Lineup
The Chemical Brothers DJ Set
M.I.A | Fedde Le Grand |Mark Ronson DJ Set |Kimbra |Booka Shade Live |Eddie Halliwell |AN21 & Max Vangeli |Carl Craig 69 Live | Maya Jane Coles | Disclosure Live | Erol Alkan | Fake Blood | Adrian Lux | Breakbot Live | Hudson Mohawke | Araabmuzik | Icona Pop | Scuba | Aeroplane |Jesse Rose | Danny Daze | AC Slater | Stafford Brothers & Timmy Trumpet | Bombs Away + More to be announced
Summadayze.com
PERTH - SUNDAY, JANUARY 6th at PATERSONS STADIUM, SUBIACO
http://www.ticketmaster.com.au or 136 100
For Editors:
ABOUT CA$H2GO
CA$H2GO is a trading name of First Stop Money Ltd, one of Australia's fastest growing online short term lenders. Founded in 2009 by CEO, Tim Dean, the company provides small amount, short term loans to thousands of Australian consumers in employment every month.
Potential borrowers can go to http://www.Cash2Go.com.au and apply for between $250 and $1000 depending on their needs. All loans are subject to verification of a customer's employment and ability to repay the loan.
First Stop Money is the holder of an Australian Credit Licence, licence number 390999.
For more information, contact Tim Dean or Lucy Auchincloss on 08 9322 6666 or email summadayze@cash2go.com.au