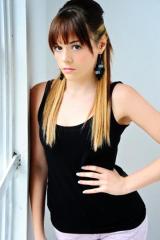 Modelling is hundred percent in her heart and soul
London, UK (PRWEB UK) 24 September 2012
La Mode London toasts a teenager's talent for perfect posing as they launch another modelling portfolio online. Stunning teenager, Taylor Pellegrino, has been posing for the camera since she was two years old and it seems was always destined to become a model.
"Modelling is hundred percent in her heart and soul and there is nothing she wants more," says Helen Smith, director for La Mode London. "She is just starting out in her career and it's obvious she will grab every opportunity that comes her way with both hands and give it her all. She cannot imagine modelling not being a part of her life and we have to say, we were very impressed that someone so young, showed so much confidence and determination. She has bags of model application and she certainly takes direction from the photographers in her stride. We're confident she will go far in the modelling industry, if her attitude is anything to go by."
La Mode London pride themselves on their honest and open model advice. They aren't a model agency, but simply a very successful commercial photography company who have had years of experience and who also have a team of experts working at the studios, who can help a model progress in the right direction.
"Our team of experts know instinctively which genres of modelling would suit each of our clients and we offer our advice as an ongoing free service," says Helen. "With Taylor, for example, she could compete for any type of modelling with her look, size and shape. We have advised that advertising and commercial modelling; catalogue modelling, as well as fashion and catwalk modelling would suit her down to the ground."
The young model's portfolio is launched online today and features a selection of photographs, as well as her vital statistics, interests and hobbies.
"Cheer-leading was one of my bigger hobbies; I was a part of a squad for near on 2 years and competed in competitions across the south coast. I like to go ice skating, swimming, I love most sports and I like to keep myself fit. Clothes's shopping is one of my favourite pastimes and I have a huge interest in the fashion world. I love to dance and have been a part of two different dance schools, Shana Goldmans and La Rocks."
The teen model is certainly not shy about talking about herself and continued, "I love all animals but mainly my heart is with cats and dogs, I have even helped deliver two litters of puppies now and the experience is amazing. Another of my favourite pastimes is to try out different make-up and style techniques and trying new things with my hair and then taking pictures of what I have created. I have a big interest in hair and beauty and will start this in September on a course in hair and beauty at Brighton City College."
She is a model of a young age but clearly with an old head on her shoulders, which La Mode feel is very important for this gorgeous girl to tackle the pressures modelling can bestow. When asked about her inspirations Taylor said," I feel no one individual has inspired me, but there are many actors, actresses and singers who have inspired me to be who I am today. I do hope though that one day I could be the inspiration for others and a good role model."
Each model completes their photo shoot day with La Mode London, and receive their very own portfolio and website, as well as ongoing advice and technical support should they need it. Each website features models contact details, a page dedicated to their image, and also a page supplying details about their personality, to help give potential employers an insight into their character. Taylor's portfolio is available to view today.
See all the brand-new modelling portfolios as they are launched online at the commercial photography studios and model advice company, http://www.lamodelondon.com