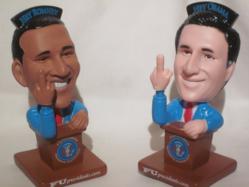 Hey, we promise that the taxes on our items are fair and that the 100% will be able to afford our products!
Hollywood, CA (PRWEB) September 25, 2012
In less than two weeks, President Barack Obama and Republican Presidential Nominee, Gov. Mitt Romney will have their first of three presidential debates. Democrats, Republicans and Independents alike will be watching these debates with bated breath as their favorite politician go head to head in the ultimate show down. Why not get into the spirit of the debates with a one of a kind collectors item - The first ever, patented limited edition Presidential Bobble Fingers brought to you by http://www.FUpresidents.com.
The irreverent, satirical collectors items made their national debut in September 2012 and have sold incredibly well. "We never expected our limited edition Presidential Bobble Fingers to sell like this! We've done interviews across the country and received phenomenal feedback from our customers. Get them while you can because they are flying out the door! Hey, we promise that the taxes on our items are fair and that the 100% will be able to afford our products!" States Jed & Dave, founders of FU Presidents.
Each bobble head figure is modeled after President Obama and Republican Presidential nominee, Gov. Mitt Romney standing behind their respective podiums - giving the traditional one fingered salute. The bobble head figures can be found at the following:
http://www.amazon.com
http://www.aahs.com/
http://www.politicalwobbles.com
http://www.ebay
About FU Sports Designs
Born and raised in Los Angeles, Ca in 1986, Jed and Dave met in nursery school and became life-long friends. This lifelong friendship continued well into college and university where the two earned bachelors degrees in business and pre-med. Jed and Dave also attended graduate school in law and real estate. But despite all conventional wisdom Jed and Dave embarked on a new direction for themselves, a more irreverent direction.
"One night at a glorious Lakers game," explained Dave, "We saw a fan doing the one fingered salute screaming at the top of his lungs and we figured if that's how the fans want it then let's give it to them. So we set out on creating FUsportdesigns, LLC in order to make the ultimate rivalry fan base. Our passion is to create in every competition a spot for the die heart fan no matter what the contest. We want every fan to own a bobble finger asserting their faith in their team because nothing says we won better than the bobbling image of your hero's finger!"
For more information, please visit http://www.fupresidents.com