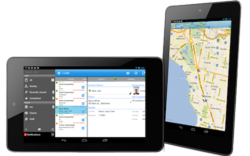 "With GeoOP it's all live and all our staff members are accountable for their jobs. We have saved a lot of time thanks to GeoOP, we don't waste it anymore by chasing staff and reviewing their work." John Walker (Operations Director at WACS Security)
Melbourne, Victoria (PRWEB) September 25, 2012
Founded in 2009, GeoOP is an award winning cloud solution for managing jobs, quotes, time, materials, invoicing through to popular accounting systems and now inventory together with Unleashed. It enables business owners to throw away their pens and paper and start using their mobile devices.
Business owners can even track their staff thanks to GeoOP's GPS Tracking feature. The GeoOP Android App also works offline and then syncs with the GeoOP servers when the Android device comes back into coverage. This is particularly handy for businesses which operate in rural areas/basements, with low or non-existent mobile signal strength. This new improved feature now allows for full job editing whilst offline, so staff are able to add and edit jobs, add notes or changes statuses as many times as they like.
Now it's even easier to start, stop and assign a timer in a job. By knowing how long staff are spending at each job, business owners are able to know exactly how much the job has cost them, so they can bill your client more accurately and better monitor job profitability. In addition, all changes to jobs, notes, users and customers are now instantly pushed to the device. There is no longer the need to manually refresh the jobs.
Like a lot of our existing clients, businesses might use photos and manuals to complete a job. Well not anymore. GeoOP allows files to be uploaded into the system so everything they need is in the palm of their hand.
GeoOP works in harmony with a number of other apps to allow businesses to make just about anything possible. For businesses which use fill-in-forms, they simply convert the document into a PDF form, open it with an app like PDF Expert, fill it in and upload it into the job on GeoOP. For businesses which need to visually record their jobs, they simply take the photos, edit them with another app and pull it into GeoOP. It really is that simple.
We have also gone to a new level in mobile workforce management with GeoOP by creating the Client Access feature. This allows the clients to see the jobs they're billing them for and allows to interact with them. Businesses get near immediate feedback from their clients and stop wasting time.
GeoOP's combination of online job management and industry leading mobile applications for iPhone, iPad and Android provides a paperless platform to transform the efficiency of mobile employees.
"Our vision at GeoOP is for every service business to throw away their clipboard and use the device already in their pocket to receive and update all of their work orders throughout the day. We call this the real time job sheet and we want GeoOP to be the leading global provider!" Nick Bartlett, CEO of GeoOP.
GeoOP has been designed to give you the most complete mobile work experience ever. Find out more by visiting the GeoOP website or by visiting our blog.
Click here to download the GeoOP Android app.
Media Contact:
Tamara Pesnjardo
Twitter: @geoop
Email: tamara.p (at) geoop (dot) com
Web: http://www.geoop.com