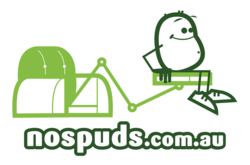 nospuds gets people off the couch, out the door & to your local activity or event
(PRWEB) September 27, 2012
Small businesses running events and activities can now get reliable online exposure thanks to a funky - and free - new Australian website.
nospuds.com.au is a free online directory of events and activities at the local level, and tackles the biggest challenge many small operators have; how to make their event or activity stand out online.
Whether they are running a cooking course, art class, yoga session, music gig, lecture, school fete, auditions, community fundraiser or even a support group, nospuds can help small to medium-sized businesses promote their event or activity to new audiences.
Activities and events are a great way to promote a business and engage with the local community. For example, a law firm could run a series of free talks on the importance of wills, a bakery could offer a bread-baking class, an artist could hold a studio open day or a local business could host a fundraising drive for a local community cause.
Traditional methods of promoting these events, such as local newspapers, bus shelter noticeboards and flyer drops, are time-consuming, expensive and don't always get to the people that organisers want to target.
nospuds founder Phil Robinson - who has a decade of experience developing online resources for small-to-medium sized businesses - set up nospuds after realising just how difficult it was for activity and event organisers to get the word out to their audience.
"I had just moved house and was keen to take some art classes, but after months of checking local bus shelters, local newspapers and online, I couldn't find anything," explains Robinson. "Finally, the week I moved house again, a flyer landed in my letterbox advertising an art class just around the corner."
More and more people are searching online for things to do in their local area and promoting an event or activity online is free and easy with nospuds. While many businesses do a good job of getting the word out to their existing customers, the real challenge is attracting new audiences and expanding their customer base.
"You might be listing your activities and events on your website or on Facebook, or via an email newsletter and this is one way to inform your current customer base of what you are doing, but to expand your audience you need to get to people who don't yet know about you," says Robinson.
This is where nospuds comes in. It is carefully designed and built to ensure the best search engine exposure for organiser's information - making sure that the activity or event is promoted to the right people and under the right search terms.
The name 'nospuds' is about 'no couch potatoes'; nospuds wants to get people off the couch, out the door and living life … by participating in activities or events in their local area.
nospuds is also designed to get to people who are open to learning and doing new things - again, attracting new audiences for businesses.
"Many business struggle with cross-promotion - getting to the people not searching for them but who might be interested in what they have to offer," Robinson says.
For example, someone searching for "get fit in Sydney" may not have heard of or considered pilates, but nospuds is designed to bring up suggestions that are related to their enquiry.
"There are lots of serendipitous ways that your customers find you, and the best way to understand these links is to ask them."